August 15, 2007
Tropics Are Heating up...
Early morning satellite images show that Tropical Storm Dean has not strengthened overnight. This could be because of some dry air and unfavorable shear conditions. This is expected to improve over the next 24 hours and Dean will likely strengthen into a hurricane before reaching the Caribbean Islands. Long range models now take the storm south of Cuba on day five and six. There is a possibility that Dean could impact the United States sometime next week. Meanwhile, the newly formed tropical depression in the Gulf of Mexico continues to move northwestward. There has been little change in intensity overnight. The system is expected to strengthen to a tropical storm before making landfall in Texas over the next few days. Again, the main threat will be moderate to heavy rainfall and isolated tornadoes.
As of 11 a.m. tropical storm warnings have been issued for portions of Texas. As of 11 a.m. tropical depression number 5 has been upgraded to Tropical Storm Erin.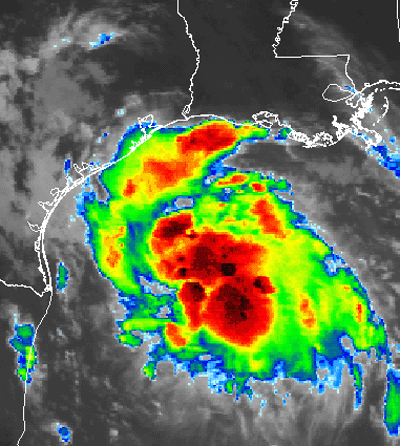 Tropical Storm Erin

Visible Image of Erin - via weathertap.com Beautiful image of Dean
Terrible, relentless, unforgiving, and wicked heat continues across much of the Central and Southern United States. At 2 p.m. this afternoon temperatures have climbed to between 100 and 105 (without the heat index) across Western Kentucky. My reporting station, here in Lone Oak, is showing 101. The Benton, Kentucky station is showing 105. Incredible heat. A heat advisory is in effect through 9 p.m. tonight.




Temperatures at 19z Southeast U.S. Temperatures High Temps Yesterday

August 16, 2007
Erin Moves Ashore...Dean Strengthens.
Tropical storm Erin moved ashore this morning. Radar loop. The storm made landfall near Lamar, Texas with winds of 35-40 mph. The National Hurricane Center has downgraded Erin to a tropical depression. The main threat from this system will be heavy rainfall and isolated tornadoes. There have been several tornado warnings this morning. Meanwhile, Tropical Storm Dean has intensified to a hurricane with winds of 80 mph. Dean continues to move west/northwest and if this course continues he will start to impact the islands over the next 24-48 hours. Hurricane warnings may be necessary for portions of the Caribbean Islands over the next 12-24 hours. Dean is expected to continue to strengthen and will likely be a category two or three hurricane within the next 24-36 hours. It is still too early to determine whether or not Dean will impact the United States.


Satellite Loop of Erin Satellite Loop of Dean and Erin



Erin - Hitting Texas Tropical Storm Erin Track Tropical Storm Erin Visible Image


Hurricane Dean - Visible Image
Meanwhile, extremely hot conditions continue to prevail across the Central and Southern United States. A frontal system will bring some hope to the Ohio Valley with possible showers and thunderstorms scattered along it. Severe thunderstorms are likely this morning across portions of Illinois and later in the day further east. Temperatures will once again approach 100 degrees across many locations of the Southern United States. Temperatures of 100-107 were reported yesterday across portions of the Ohio and Tennessee Valleys. Incredible heat. Temperatures last night at 10 p.m. were 90 degrees and above at Nashville - TN, St Louis- MO, and Memphis - TN.



August 15th High Temps
At 2 p.m. temperatures were ranging from 100 to 106 degrees across Southern Illinois, Southern Indiana, Kentucky, and southward. The temperature here in Lone Oak has reached 101 degrees so far today. Temperatures in Benton, Kentucky have reached 105 and Barkley Regional Airport reported 104 earlier this afternoon. Record heat.
Dean Upgraded to Category 2 Hurricane...
Hurricane Dean continues to gain strength this evening. Winds are now up to 100 miles per hour near the center. Current forecasts take this system into the Caribbean over the next few days. Hurricane warnings have now been issued for portions of the Eastern Caribbean. There are concerns that Dean could move into the Gulf of Mexico by early next week. Additional strengthening is expected and Dean could become a category three or four as it moves through the Caribbean. Unfortunately, it now appears that Hurricane Dean could impact the United States. Stay tuned.


Evening Satellite Image Evening Track Forecast from the NHC


Damage Potential Map - Forecast Possible Storm Surge - Forecast

Wind Potential Caribbean Islands Storm Surge Forecast
Tropical Depression Erin continues to spin itself out across Southern Texas. Flash flooding has been the main problem today. There were reports, from the National Weather Service, of water rescues in San Antonia. Rainfall amounts of between 1"-7" have been received across the path of the system. Heavy rainfall will continue through tonight.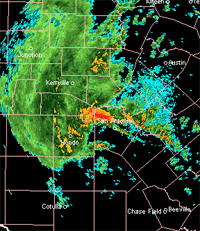 Radar Animation via weathertap San Antonio Rainfall Totals Houston Rainfall Totals
Scattered severe thunderstorms are moving across this region as of early this evening. A number of large hail and damaging wind reports have been received by the National Weather Service. A severe thunderstorm watch covers portions of Missouri, Illinois, Indiana, Kentucky, Ohio, and eastward.


4:30 p.m. Paducah, KY - Radar 4:30 p.m. Louisville, KY Radar
107 Degrees in Paducah, Kentucky This Afternoon...
Amazing heat across Western Kentucky this afternoon. The National Weather Service recorded a temperature of 105 degrees. This is the highest temperate since the 1960s at Barkley Regional Airport. The 107 degree reading at WPSD-TV 6 was the highest reading that Meteorologist Cal Sisto has witnessed in his 25 years of living here. Amazing temperatures for this region.


August 16th High Temps Thursday Low Temps


Evening view of Erin
August 17, 2007
If you are looking for historic weather books - I have a few for sale at this web-site. You can also view more of my weather photography at this site.
Hurricane Dean continues to move into and through the Caribbean this morning. He has been bringing severe squalls to the islands of Martinique and Dominica. So far most of the damage reports have mainly been to trees and some roof damage. There have been reports from St.Lucia of major flooding, roofs of our structures, and significant tree damage. Dean had weakened slightly overnight and satellite presentations, earlier this morning, were not as impressive as they were yesterday. However, Dean has already started to regain strength as of 9 a.m. Dean could become a category three or four hurricane within the next 24-48 hours. Exact track path is still uncertain. At this time it appears the greatest threat will be to the northern portions of the Yucatan Peninsula. After that areas from Texas to Mexico should be alert as Dean moves in their direction. Hurricane audio feeds can be here at this site.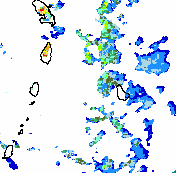 Radar Animation Long Radar Loop
The WaveWAtch Model is showing an interesting path...with the eye north of the Yucatan.



Wave Model showing the eventual track of Dean. One of many solutions.

Track possibilities for Dean
Dean has strengthened this morning - winds at 11 a.m. are now estimated to be 105 miles per hour. A well respected forecaster, Don Sutherland, is calling for Dean to hit the Yucatan Peninsula and continue westward striking Mexico a second time south of Texas. You can read his forecast here.

Noon - Satellite Images of Dean

Special Imagery of Hurricane Dean GFDL Possible Track for Hurricane Dean
Heat Wave Kills 41 People Across The South and Midwest...
Relentless heat continues to pound much of the Central and Southern United States. Early figures now place the death toll at more than 40 people. The toll is expected to be much higher - possibly into the hundreds. There were nine confirmed deaths in Missouri, eight in Illinois, four each in Arkansas and Georgia, three in Alabama, two in South Carolina and one in Mississippi and Tennessee. Many others likely have died from heat related illnesses - numbers are difficult to obtain due to how records are kept. Slightly cooler temperatures will prevail over the Ohio Valley today. Instead of 100+ temperatures we will see 90+ temperatures.
So how hot has it been in Paducah? The Paducah, Kentucky, National Weather Service Office has put together some statistics. You can view their information here.


August 17th High Temps
Early Afternoon - Hurricane Dean Strengthens to a Category Three...
Hurricane Dean continues to gain strength...it is now a major hurricane with winds of 125 mile per hour winds. Barometric pressure is now down to 960 mb. Hurricane Dean will likely become a category 4 hurricane over the next 24 hours. There are discussions underway on how to evacuate the Gulf Coast. The State of Kentucky has agreed to take 5000 evacuees from Louisiana. The American Red Cross would be opening shelters in the event of this scenario. Hurricane Dean has caused major damage across Martinique and St. Lucia. At least one person has been killed.

Hurricane Dean - Afternoon Image
EasternUSwx image grab
Evening - Hurricane Dean Strengthens to a Category Four Hurricane...
Hurricane Dean continues to gain strength...it is now a major hurricane with winds of 135 mile per hour winds with a pressure reading of 935 mb. This makes Dean a dangerous category four hurricane. Additional strengthening is possible. This is an extremely dangerous hurricane. Interests in the Caribbean, Mexico and along the Gulf Coast should keep abreast of the latest information on Hurricane Dean. Current projections are that Dean will strike the Yucatan Peninsula and then moves west/northwest and strike portions of Mexico or Southern Texas. There remains a lot of uncertainly as to the eventual path. The next island in the path of Hurricane Dean will be Jamaica. Unfortunately it appears that this will be a direct hit.
Here are some 7 p.m. images from Gempak of Hurricane Dean



Hurricane Images - Click for full view.

Hurricane Images - Click for full view.

GFDL 18z Forecast Track
Mike Davis posted this report from the island of St. Lucia earlier this evening. The eye-wall passed across the southern portion of the island causing extensive damage.
Dangerous Dean: The most powerful hurricane to strike St. Lucia in 27 years.
Early this morning Hurricane Dean tore through St. Lucia with violent winds and rains. The southern portion of the eyewall brushed the northern part of the island resulting in very notable damage in certain parts of the country.
Several reports indicate that many roofs in the northern part of the island were blown off and a few homes were completely destroyed. The roof of the Children's Ward at the Victoria Hospital was blown off as well as that of a few schools and churches. There were reports of flooding caused by heavy rains and also by the storm surge. The waterfront area of the city of Castries was littered with debris as the large waves deposited the large boulders which were used along the shore to serve as a protective barrier against high seas right onto the street. Numerous road signs and billboards were blown down. There was an island wide power failure from about 4am this morning leaving over 165 000 persons with no power. Most of the radio stations were knocked out during the cyclone and the tower holding the antennae of Radio St. Lucia which is located at Morne Fortune was almost completely destroyed. Several power lines were ripped off and some poles were toppled over as trees fell onto the lines. There has also been one fatality as a 62 yr old man drowned in Sarot. The heavy storm surge has caused some beach erosion and several boats have been reported to have sank. However, the most severe damage was caused to the vegetation with many, many trees uprooted and stripped bare of their leaves and branches. Everywhere is just littered with leaves and broken branches to the magnitude that I have never witnessed and similar sentiments are being shared by most people.
All of this destruction and possibly more, was all caused by the powerful winds generated by Dean which began to gusts violently from about 2am this morning and worsened between 4:30am and 7am this morning as the eye passed by. Gusts up to 77kts or about 90mph and 101.7mm of rain were officially recorded at the George F. L. Charles Airport in Castries. Even stronger winds have occurred in the Gros Islet area which is the northern most district of the island. The situation there is very grim based on the reports I have received. The famous Rodney Bay tourist area has been heavily damaged with many roofs damaged and a lot of trees and power lines down. Power has not been restored there as yet so it could be a long night for persons living in the area not to mention the tourists. Cap Estate, located at the very northern tip of the country was probably brushed by the eye and the eyewall as a brief calm period was reported by one of our correspondents.
Generally, St. Lucia was heavily impacted. I have never witnessed such violent conditions on St. Lucian soil before but it could have been worse had the eye passed about 20 or 30 miles further south. Martinique was worse hit than us so I am keeping my fingers crossed for our neighbors over there and I hope to hear from them soon.
Mike Davis, from St. Lucia Island, posted these photos of some of the storm damage. At least 1 person has been killed on the islands. Mike posted this report earlier this evening from the island:



Photos by Mike Davis - St Lucia Island.
10 PM - Hurricane Dean Strengthens to a Strong Category Four Hurricane...
10 p.m. Recon Report - Winds are now sustained at 145 mph. Dean would only have to increase its winds by 10 mph in order to reach category five status. This is an extremely dangerous hurricane. The 11 PM advisory. Three people have been killed by Hurricane Dean. A State of Emergency has been issued for the State of Louisiana.



10 PM EDT - Hurricane Dean Gempak Images
At least one hurricane chaser is working on his final chase itinerary. Josh Morgerman could be heading for Jamaica, Cancun, Mexico or Brownsville, Texas. For updates on his chase you can visit this thread. You can also visit his web-site Icyclone.
11 PM - Recon has reported a wind gust of 179 mph...

August 18, 2007
Dangerous Dean Churns Through The Caribbean...

12 AM - EDT - Hurricane Dean churns through the Caribbean
At 2 AM Hurricane Dean continues to strengthen. The National Hurricane Center has increased his winds to 150 miles per hour with gusts to 180 miles per hour. The pressure has fallen to 930mb. This is an extremely dangerous hurricane. View a large satellite image of Hurricane Dean here. Large loop of the same image (warning extremely large images).

20 Frame Loop of Hurricane Dean passing south of Puerto Rico
Bobo and Annika Bergstrom have posted a few photos of the damage on St. Lucia. You can view all of their photos on this web site.
The remnants of Tropical Storm Erin continue to spin over Southern Texas. Rainfall amounts in excess of 5 inches have been reported in many areas. This has caused flash flooding in numerous counties. Texas state officials reported four deaths and three people missing following the storms impact on the region. You can view all the local storm reports and rainfall totals here.



Long radar loop of the remnants of Erin
Image from Intellicast.com


If you would like to listen to NOAA Weather Radio Live then visit this site. You can hear most of the Gulf Coast NOAA Weather Radio Stations - including Brownsville, Texas

Cuba radar has been updated and there are now numerous radar locations. This is an improvement over the last few years. You can visit the Cuban Radar Sites at this web-site. You can also visit the Jamaica Weather Radar Site (may be down for maintenance). It may not stay up long if the hurricane does strike the island. Guantanamo Bay, Cuba Radar.
11 AM - Hurricane Dean Remains a Strong Category Four Hurricane...150 MPH Winds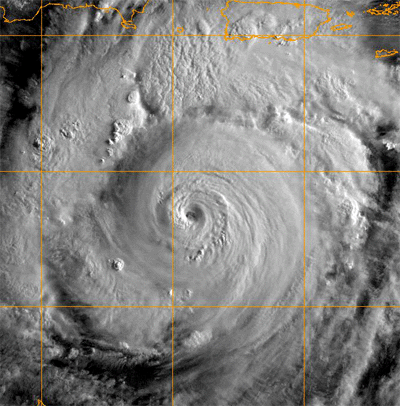 Larger image
11 AM Images of Hurricane Dean - Gempak Image Grabs. Click for large file - right click to save to your computer.
For those interested in watching some of the islands. Here is a link to multiple web-cams from the Grand Cayman Island. Live weather conditions as well. This was mentioned on the TalkWeather Forum by Drew. Map of the location of this island.
Animation using HurrTrack Software - you can see the northwest wobble. Here is a long radar loop from Puerto Rico as Hurricane Dean pulled away.

WIFI Internet for your vehicle? A reality now with AutoNet!
Are you a storm chaser? Wouldn't it be great to download Gibson Ridge Radar Images straight from your car? How about checking the latest Day 1 Severe Weather Outlook? Hurricane bulletins? Then I think you will be excited to know that a new service will be available, within the next few weeks, that will bring WIFI Internet to your car, hotel room, or anywhere else for that matter. AutoNet Mobile is the first device of its kind in the U.S. Market. It will allow you to turn your vehicle into a rolling WIFI Hotspot. The patent-pending technology allows for seamless transfer between cell towers. This means no more disconnects and reconnects. Reviews of this device have been excellent. You can read some lengthy chaser reviews at this site. Visit the AutoNet Website for full details.

2 PM - Dean Remains A Strong Category Four Hurricane...


2 PM Gempak Image
HurrTrack is showing a powerful hit on the Yucatan Peninsula. This would be a category five hurricane if the model forecast holds true. The remnants of Erin continue to bring rain to portions of Texas. Tropical Storm Erin has already killed six people due to flash flooding.
Local radio stations across Jamaica for those who are interested in listening to live coverage.
Nationwide Radio (Hurricane coverage and live reports
starting tonight.)
http://www.nationwidenewsnetwork.com/

Newstalk93 (Hurricane coverage starts tonight)
http://newstalk.com.jm/

Love101fm
http://www.love101.org/

Kool 97 fm
http://www.kool97fm.com/

Irie fm
http://www.iriefm.net/

Power106 FM
http://www.go-jamaica.com/power/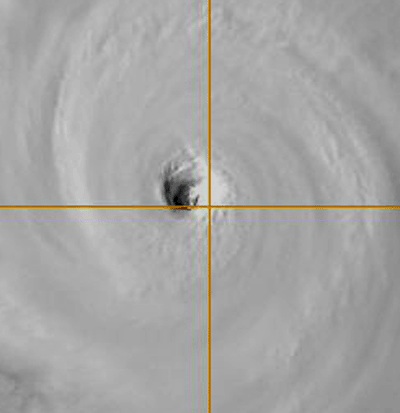 Eye of Hurricane Dean - August 18th - 4 PM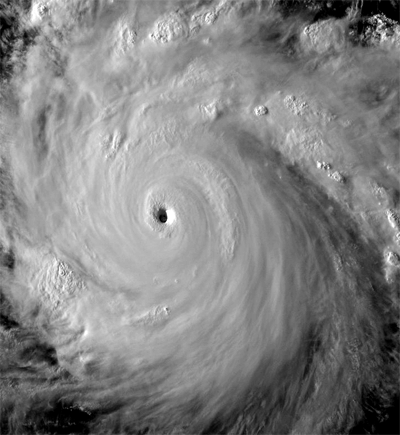 5 PM - Category Four Hurricane Dean.

Impressive Satellite Image
The heat has returned to our region. Temperatures of 100+ have spread across Western Kentucky this afternoon. We were in the nineties yesterday and had hoped to avoid the 100 degree weather over the weekend. Unfortunately the latest forecasts indicate that upper nineties and low one-hundreds will be likely through next Friday. The historic heat wave continues.


Temperatures at 4 PM Central
I just uploaded these images with Jamaican radio information in the background.
This is the last visible image of the evening. Hurricane Dean is a category 4 or 5 at this time. There has been a slight southwest movement over the last few hours.


Click for large image.



Hurricane Dean - Evening Images - 8 PM Central Time



Hurricane Dean
PRIME MINISTER ADDRESS TO THE NATION - Jamaica

I uploaded this at 9 PM - ADDRESS TO THE NATION
These are the top ten lowest hurricane pressure readings ever recorded in the Atlantic Ocean. Thank you to Ian and gkrangers, from EasternUSwx, for their help in putting this data together.
Rank Hurricane Season Min. pressure
1 Wilma 2005 882 mbar (hPa)
2 Gilbert 1988 888 mbar (hPa)
3 "Labor Day" 1935 892 mbar (hPa)
4 Rita 2005 895 mbar (hPa)
5 Allen 1980 899 mbar (hPa)
6 Katrina 2005 902 mbar (hPa)
7 Camille 1969 905 mbar (hPa)
Mitch 1998 905 mbar (hPa)
9 Ivan 2004 910 mbar (hPa)
10 Janet 1955 914 mbar (hPa)
At 11 PM EDT, Hurricane Dean had a pressure reading of 917-918mb. This is an extremely powerful hurricane. The winds were down slightly and the National Hurricane Center has lowered the winds to 145 mph. Dean remains a category four hurricane. It appears more and more likely that Dean will not impact the United States with a direct hit. Portions of Southern Texas will feel some of the impact though. Strong winds and heavy rain would be the main threat. Mexico is going to take the brunt of Hurricane Dean in the coming days. As always, it is possible that the track could change. The above is the most likely scenario.

Turn the page for more weather
Home | About | News | Upcoming Events| Photo Gallery | Video | Links | Contact
All Photos are copyrighted by Beau Dodson and are used on this site with his permission. Any use other than authorized by them is against the law. If you wish to contact him regarding use of these photos, please href="mailto:beaudodson@usawx.com">e-mail me and I will forward it.