August 19, 2007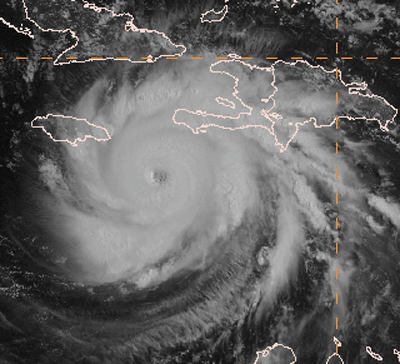 Dean heads for Jamaica...Category Four
Hurricane Dean continues to churn through the Caribbean this morning. He is heading for Jamaica. The category four hurricanes is moving west/northwest at 17 miles per hour. Highest sustained winds this morning are 145 mph. The barometric pressure has risen to 928 mb. Some strengthening or fluctuations in intensity can be expected over the next 24 hours. Dean could become a category five hurricane on Monday. It appears that the next strike will be the Yucatan Peninsula.
Jamaica will be hit hard but it could be worse. This will not be a total catastrophe. Thankfully the storm will be moving slightly further south than earlier expected. Storm surge will be a problem and winds gusting to near 100 mph.


Track Forecast Advanced Wind Forecast
© 2006, PC Weather Products - Image From HurrTrak Advanced 2006
http://www.pcwp.com




August 19, 2007 Gempak Images - 11 AM EDT (thanks to Jason Darnall for the visible images)
If you would like to listen to NOAA Weather Radio Live then visit this site. You can hear most of the Gulf Coast NOAA Weather Radio Stations - including Brownsville, Texas

Cuba radar has been updated and there are now numerous radar locations. This is an improvement over the last few years. You can visit the Cuban Radar Sites at this web-site. You can also visit the Jamaica Weather Radar Site (may be down for maintenance). It may not stay up long if the hurricane does strike the island. Guantanamo Bay, Cuba Radar.
Live information 24 hours a day from the Caribbean.



Zoom wind field
© 2006, PC Weather Products - Image From HurrTrak Advanced 2006
http://www.pcwp.com


Radar Animation of Hurricane Dean 2 PM Satellite
Cuban Radar - 12:45 PM CDT
Major news networks are showing water rescues this afternoon in Kingfisher, Oklahoma. The remnants of Tropical Storm Erin has brought flooding rains to portions of that state. Flash flood warnings have been issued for much of Central Oklahoma. These warnings will continue into the afternoon. Erin actually intensified overnight with sustained winds of 40 mph. At 2 PM heavy rain was spinning northeastward into Eastern and Northeast Oklahoma. Additional flooding is possible along the path of this system. Tropical Storm Erin has killed more than seven people, with more missing, since moving ashore in Southeast Texas.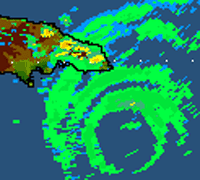 2 PM Radar Animation of Hurricane Dean
Eyewall approaching Jamaica.
At 2 PM Central Time - Hurricane Dean is hitting the island. Reports from Jamaica are that winds are now gusting over 100 miles per hour. There have been numerous reports of roofs off of houses including one police station. There are dozens of reports of large trees down - tree limbs are covering roads. Light poles are reportedly damaged in many towns. Flooding is starting to be reported along the eastern portion of the island and southeast portion of the island. The eye of Hurricane Dean is quickly approaching the southern portion of Jamaica. It will be a close call as far as the eyewall actually brushing the island. There have been no reports of injuries at this time. Seventeen boaters are reportedly trapped on their vessels just off the coast of the southeast portion of the island. They made the decision to ride out the storm.
2:45 PM Central Time - Cuba Radar Animation

3:20 PM Radar - The eyewall is approaching Jamaica
You can listen to live Ham Radio Reports at this site.


Hurricane Dean - Close Approach To Jamaica - 2015Z


4:45 PM Central Time - Weather Radar
4:45 PM Central Time - Cuba Radar Animation
In full hurricane mode here this afternoon. Tracking Dean has been interesting. I wish I could have gone on a chase. My passport is currently with the Chinese Embassy. No passport - no go. Maybe next time.

Watching Hurricane Dean from my house.

CNN and other major media networks are covering the hurricane.

CNN and other major media networks are covering the hurricane.

The Weather Channel - Live from Jamaica


At 5:30 PM CDT, weather radar indicates that the outer eyewall is hitting Jamaica.

5:30 PM CDT, Gempak Satellite Images


Series of visible images as Hurricane Dean struck Jamaica earlier today.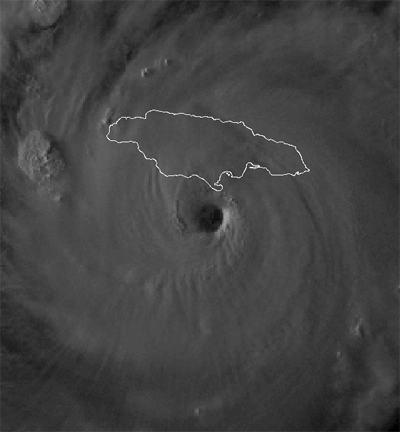 Hurricane Dean Pounds Jamaica - 6 PM CDT, August 19, 2007

Beautiful view
Radar Loop Animation - 6:00 PM CDT
Radar Loop Animation - 7:00 PM CDT
Radar Loop Animation - 9:00 PM CDT
Radar Loop Animation - 9:20-9:40 PM CDT
Radar Loop Animation - 10:00 PM CDT
Radar Loop Animation - 11:00 PM CDT
Radar Loop Animation - 12:00 AM CDT
Radar Loop Animation - 12:30 AM CDT
Dean moving past Jamaica...model animation of the wind field as Dean passed Jamaica
The latest vortex message from the Hurricane Hunter Plane is interesting:
URNT12 KNHC 200243
VORTEX DATA MESSAGE AL042007
A. 20/02:19:30Z
B. 17 deg 28 min N
078 deg 34 min W
C. 700 mb 2452 m
D. 107 kt
E. 128 deg 9 nm
F. 224 deg 108 kt
G. 128 deg 009 nm
H. 927 mb
I. 7 C/ 3019 m
J. 18 C/ 3043 m
K. 15 C/ NA
L. CLOSED
M. C16
N. 12345/7
O. 0.02 / 1 nm
P. AF304 1104A DEAN OB 10
MAX FL WIND 125 KT E QUAD 01:25:00 Z
MAX FL WIND OUTBOUND 143 KT NW QUAD 02:25:30 Z
STARS VISIBLE ABOVE IN CENTER
Early reports out of Jamaica indicate severe damage in a number of towns. There are reports of numerous roofs off of businesses and houses. Also looting is being reported. There are a number of people reported missing. Storm surge is severe along the southern and southeast coast of Jamaica. Severe flooding is ongoing as of 8 PM CDT. Winds over 140 miles per hour have struck portions of the island. The Alleys and Lionel Town area has been hit extremely hard. Those two towns have likely sustained extensive damage. Radio reports out of Jamaica are reporting inadequate supplies of food in many shelters. The island has several more hours of heavy weather. There are reports of eight deaths so far from Hurricane Dean across the Caribbean. Here is an archive from StormCar - postings from Jamaica. StormCarib Web-Page. Robin Storm has a weather-blog with more information.
August 20, 2007
Extremely dangerous Hurricane Dean is nearing category five strength this morning as it churns through the warm Caribbean waters. The hurricane continues to move west and will strike the Yucatan Peninsular later tonight. Dean will bring a catastrophe to Mexico with sustained winds expected to reach 160 miles per hour and gusts to near 200 mph.
Information out of Jamaica this morning is sketchy at best. Several small communities took a near direct hit as Dean skirted the island yesterday and overnight. Communication was lost to several areas and it is unknown the fate of 17 fishermen that were stranded off the coast of the island. Damage was expected to be extreme across portions of Jamaica and more information will be available later today as to the extent of the damage.
Morning Images of Hurricane Dean...



Dean Strikes Jamaica - Video From YouTube

Dean Striking Jamaica - YouTube Video

Hurricane Dean Lashes Jamaica - TWC - YouTube Video

11:30 AM CDT - Hurricane Dean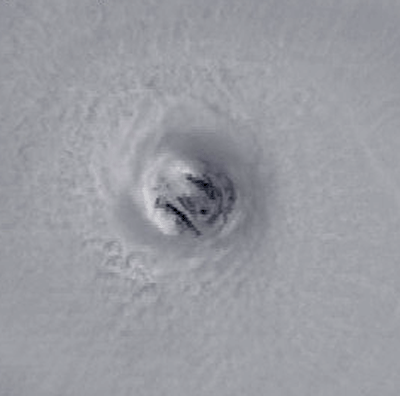 12 PM CDT - Eye of Hurricane Dean

OSEI Satellite Image of Dean
Some damage reports are starting to come in from local residents in Jamaica. The StormCarib web-site has updates on a regular basis.

Oklahoma Wind Event...
A rare weather event struck Oklahoma yesterday. Here is a first hand report, from Rocky Rascovich, a resident of Piedmont, Oklahoma. Six people lost their lives in Oklahoma because of the remnants of Tropical Storm Erin. Water rescues were common-place across many counties of the central part of the state. Oklahoma City set a new rainfall record, on Sunday, with 3.17" falling. Tulsa reported 8-10 inches of rain.




Oklahoma rainfall and radar of the spiral bands HPC Storm Track
Severe Drought Continues Across This Region...
The drought continues across this region. I have recorded no rainfall so far this month. Areas around me have received some scattered storms. It has been hit and miss though. There will be little relief over the next few days. The remnants of Tropical Storm Erin should move through our region this afternoon and tonight. This could bring some light to moderate rain. Crossing my fingers that we will actually receive some much needed rainfall.
Dean Gaining Strength? Afternoon Update...
Dean appears to be gaining in strength. No new data is in but it appears that we might have a category five hurricane on our hands.
WOW just incredible images of Dean
Cancun Radar Loop Animation - 18:30 - 22:30
Cancun Radar Loop Animation - 19:30 - 01:30
Cancun Radar Loop Animation - 20:00 - 04:00
Storm chaser George Kourounis has reported in from Jamaica. He has posted some amazing photographs on his web-site. You can view them all here.
Storm Chaser Josh Morgerman is right in the path of the eye of Hurricane Dean. Read his updates at the link above.
Hurricane Dean Category Five - 9:45 PM EDT Images
Hurricane Coverage - 9:00 CDT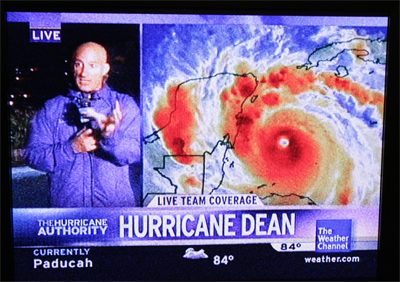 The Weather Channel - 9 PM CDT

CNN - 9 PM CDT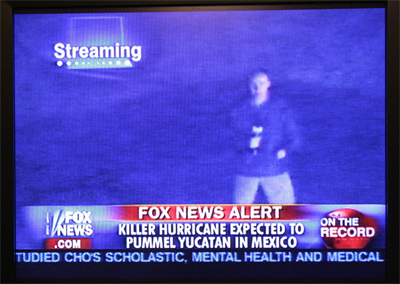 FOX News - 9 PM CDT


CNN from Chetumal, Mexico


This is where Josh Morgerman is located - Hurricane Chasing

9:30 PM CDT - Cancun Radar
Hurricane Dean has reached Category Five status this evening. Winds are 160 miles per hour with gusts to near 200 miles per hour. This is an extremely dangerous hurricane. The hardest hit areas will remain south of Cancun. A serious situation for those in the path of the eye. Expect extreme or catastrophic damage in the areas that are hit the hardest.

Eyewall showing up on radar - 10:15 PM CDT

Eye of Dean - Midnight CDT - August 21, 2007
Turn the page for more weather
Home | About | News | Upcoming Events| Photo Gallery | Video | Links | Contact
All Photos are copyrighted by Beau Dodson and are used on this site with his permission. Any use other than authorized by them is against the law. If you wish to contact him regarding use of these photos, please e-mail me and I will forward it.