June 2008
June 01, 2008
At midnight tonight there is a beautiful lightning display to my south. Nearly constant lightning - a bit of thunder (almost too far away for the thunder). I can see the thunderheads though and frequent cloud to ground and cloud to cloud lightning. I wish I was up on my hill tonight! Can't wait to move!!
The latest day 2 outlook shows the potential for surface based thunderstorms over the region - mainly Monday Evening. There is currently a slight risk for severe storms per SPC. They are talking about an upgrade:
A POTENTIALLY MORE SIGNIFICANT SEVERE WEATHER THREAT MAY DEVELOP
MONDAY AFTERNOON INTO EVENING ALONG WARM FRONT LIFTING NEWD THROUGH
THE CNTRL LOW PLAINS AND OZARK PLATEAU. UNCERTAINTIES STILL EXIST
IN DIURNAL STORM INITIATION/EVOLUTION ALONG FRONT GIVEN: 1) THE
TENDENCY FOR A STRENGTHENING CAP FROM THE W...AND 2) THAT THE
STRONGER LARGE-SCALE FORCING FOR ASCENT WILL BE QUICKLY SHIFTING
EWD/NEWD OF THE REGION.
STILL IT DOES APPEAR THAT ISOLATED TO SCATTERED SURFACE-BASED STORM
DEVELOPMENT IS POSSIBLE WITHIN A THERMODYNAMIC AND KINEMATIC
ENVIRONMENT QUITE FAVORABLE FOR SUPERCELLS CAPABLE OF VERY LARGE
HAIL...DAMAGING WINDS AND TORNADOES. AN UPGRADE TO MODERATE RISK
MAY BECOME NECESSARY IN LATER OUTLOOKS ONCE FINER-SCALE DETAILS
BECOME MORE CERTAIN. SPC

Day 2 Outlook
June 03, 2008
Severe thunderstorms have remained to my north and south over the last few days. It seems like the rest of this week may see similar storm tracks. Severe thunderstorms and tornadoes are expected to my north and northeast today. The risk then shifts or remains to my north on Wednesday and Thursday. Friday and Saturday will see a cold front approach. Right now it appears the storm will occlude before reaching West Kentucky.
Warm weather prevails as well. Temperatures have been in the middle to upper 80s across the region. Muggy as well. Welcome to June.
A squall line is moving through central Illinois this morning. Bow echo with damaging winds and some hail.


IL Bow
June 05, 2008
It appears that a major high wind event is on tap across portions of the central United States. The SPC has issued a high risk for portions of Nebraska, Iowa, Kansas, and Missouri. It appears that the greatest risk for tornadoes will be across southeast Nebraska, northeast Kansas, southwest Iowa, and northwest Missouri.
A derecho is possible across portions of Kansas and Oklahoma. This will eventually move into Missouri later this evening.

8 PM - Squall line across the central United States.

High Risk
There will be some risk of severe weather across the KPAH region on Friday. It remains unclear as to just how far eastward the storms will move. The SPC has issued a moderate risk for portions of Illinois and Indiana. I believe the biggest threat could be south of where they have most of the moderate risk.
June 09, 2008
Scattered severe thunderstorms are likely today across the Tri-State area. High winds will be the main threat. A cold front is approaching from the west. Temperatures will be close to ninety degrees!
June 13, 2008
Kent King Passes Away...
Very sad news today. Kent King passed away at 12:30 this afternoon. Kent was a good friend and a great emergency manager. He was a one of a kind. He will be sorely missed.

Kent King
June 29, 2008
Well, a quiet spring continues. I guess it is summer now! We have had very little in the way of serious weather over the last few months. A few thunderstorms moved through the region during the past week. Although, West Kentucky did not have severe weather.
There were reports of strong winds and hail across South Illinois and South Indiana. Most of the heavy weather stayed north of my counties.
It has been hot, on the other hand. Hot, Hot, Hot. NOT my favorite kind of weather. Temperatures have soured into the balmy 90s and dew points have been above 70 degrees.
Go figure. Feast or famine around here. We had a very cool spring and lots of flooding...the rains then shut off and it turned hot. Some balance would be nice! I would enjoy some 80 degree weather with low humidity. That is just me though!
The new building project is underway in Massac County. I will be moving from McCracken County, KY and back to Illinois. I grew up in Massac County and will be happy to return to my old homestead. We are building a new weather center with wonderful views. The weather center will be on the second floor and will face southwest. Lots of windows!
We are exploring some green ideas. A wind turbine perhaps? Solar hot water? Geothermal? Solar panels? I don't know just yet. We have been with one guy from Evansville (Brad Morton) that sells solar energy products. We are planning on meeting one other person.
Here are a few photographs from the excavating:

Looking northward. Can't wait for a good lightning storm.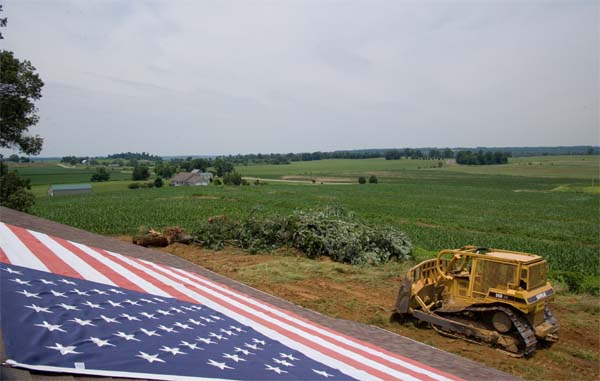 Excavating begins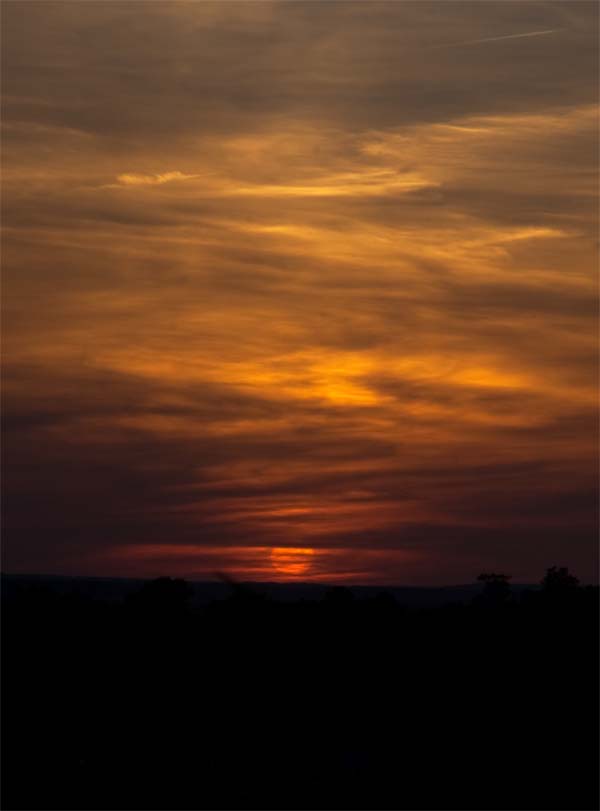 My first sunset, up on the farm, in 20 years. :) I love it! Perfect view.
Turn the page for more weather
Home | About | News | Upcoming Events| Photo Gallery | Video | Links | Contact
All Photos are copyrighted by Beau Dodson (unless otherwise clearly stated) and are used on this site with his permission. Any use other than authorized by them is against the law. If you wish to contact him regarding use of these photos, please e-mail me and I will forward it.