September 9, 2007
Scattered showers are moving across the Missouri Bootheel this morning. We picked up 0.01" of rain overnight. Some areas to our northwest received 3-6 inches of rain. Feast or famine.
The 8-14 day outlook indicates below normal temperatures for much of the Eastern United States. At least it will be cooler!


8-14 Day Temperature and Precipitation Outlook
Tropical Storm Gabrielle is bringing heavy rain and gusty winds to North Carolina this morning. You can view a radar animation, from WeatherTap, of Gabrielle by clicking here.
September 10, 2007
I drove up to Canada last night. It was a nice drive. The leaves are starting to turn colors here in Ontario. More of a hint of colors than anything else. I would imagine there will be rapid changes over the next weeks. Not sure how bright the colors will be. The dry weather has also impacted this region. The forecast is for low temperatures to be in the 30s by Friday Night and Saturday Morning. Perhaps some frost?
A rather strong storm system will accompany the cold weather. There could be a line of showers and thunderstorms across portions of Ontario and into Quebec. Portions of the Northeast would also be impacted.


Saturday Forcing
September 11, 2007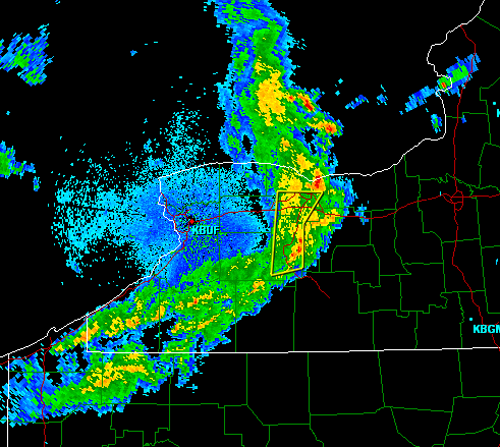 Strong thunderstorms moved through the Waterloo, Ontario area earlier this evening. Gusty winds, lightning, and heavy rain accompanied the storms. Chilly air is moving in behind the storms with a forecast of new record low temperatures tonight. This will be the coldest air of the season for Waterloo. Environmental Canada expects scattered frost through the countryside.
____________________________________________________________

Record Breaking Rainfall Pounds Oklahoma City On Monday...
OKLAHOMA CITY — Heavy rainfall pounded south Oklahoma City early Monday, causing flash flooding and shattering an 82-year-old daily rainfall record in less than one hour.
By 8:30 a.m. Monday, 6.28 inches of rain had fallen at Will Rogers World Airport since midnight, including 2.73 inches between 3 a.m. and 4 a.m., according to the National Weather Service. The previous record for rainfall in a 24-hour period at the site was 2.4 inches in 1925. The official rainfall total for the day was 6.32 inches.
The National Weather Service said that the record was actually broken in less than one hour.
September 12, 2007
Two Tropical Depressions Form In The Atlantic...
TROPICAL DEPRESSION EIGHT ADVISORY NUMBER 1
NWS TPC/NATIONAL HURRICANE CENTER MIAMI FL AL082007
1100 AM EDT WED SEP 12 2007

...TROPICAL DEPRESSION FORMS WELL EAST OF THE LESSER ANTILLES...

AT 1100 AM EDT...1500Z...THE CENTER OF TROPICAL DEPRESSION EIGHT WAS
LOCATED NEAR LATITUDE 13.2 NORTH...LONGITUDE 44.6 WEST OR ABOUT 1130
MILES...1815 KM...EAST OF THE LESSER ANTILLES.

Forecast path for tropical depression number 8.

BULLETIN
TROPICAL DEPRESSION NINE ADVISORY NUMBER 1
NWS TPC/NATIONAL HURRICANE CENTER MIAMI FL AL092007
1000 AM CDT WED SEP 12 2007

...TROPICAL DEPRESSION FORMS IN THE NORTHWESTERN GULF OF MEXICO...

AT 10 AM CDT...1500 UTC...A TROPICAL STORM WARNING HAS BEEN ISSUED
FROM PORT O'CONNOR TEXAS TO CAMERON LOUISIANA. A TROPICAL STORM
WARNING MEANS THAT TROPICAL STORM CONDITIONS ARE EXPECTED WITHIN
THE WARNING AREA WITHIN THE NEXT 24 HOURS.

AT 10 AM CDT...A TROPICAL STORM WATCH HAS BEEN ISSUED FROM EAST OF
CAMERON TO INTRACOASTAL CITY LOUISIANA. A TROPICAL STORM WATCH
MEANS THAT TROPICAL STORM CONDITIONS ARE POSSIBLE WITHIN THE WATCH
AREA...GENERALLY WITHIN 36 HOURS.

Forecast Track for tropical depression nine.

Noon satellite image of tropical depression nine.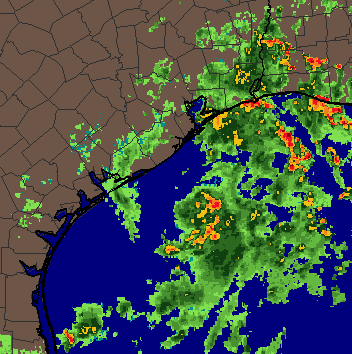 Radar animation of tropical depression number nine. Provided by WeatherTap. Radar is showing a nice spin off the Coast of Texas. Tropical storm warnings have been issued for a portion of that region. Radar Animation flooding is possible with this tropical system across Southeast Texas and Southwest Louisiana. Further intensification is likely today and Humberto could become a strong tropical storm later tonight.

1 p.m. Houston WeatherTap Radar Animation - Showing
the spin of tropical depression nine offshore.
To subscribe to WeatherTap you may visit their web-site by clicking here.
Tropical depression upgraded to Tropical Storm Humberto
BULLETIN
TROPICAL STORM HUMBERTO INTERMEDIATE ADVISORY NUMBER 1A
NWS TPC/NATIONAL HURRICANE CENTER MIAMI FL AL092007
100 PM CDT WED SEP 12 2007

...TROPICAL DEPRESSION STRENGTHENS INTO A TROPICAL STORM...
MAXIMUM SUSTAINED WINDS HAVE INCREASED AND ARE NOW NEAR 45 MPH...75
KM/HR...WITH HIGHER GUSTS. SOME ADDITIONAL STRENGTHENING IS
POSSIBLE PRIOR TO LANDFALL. THE EARLIER AIR FORCE RESERVE UNIT
RECONNAISSANCE AIRCRAFT RETURNED TO BASE FOR MECHANICAL
REASONS...BUT A SECOND AIRCRAFT IS EXPECTED TO REACH HUMBERTO
WITHIN AN HOUR OR SO.
____________________________________________________________

The leaves are starting to turn in Waterloo...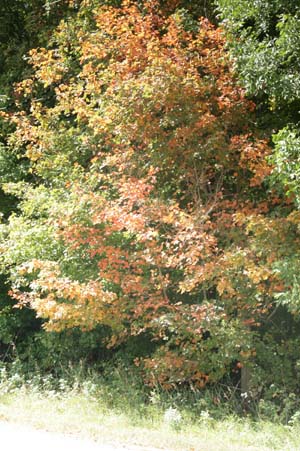 Took this photo this afternoon. Some color in
the leaves already. Should see a lot more in the
coming weeks.
____________________________________________________________

Tropical Storm Humberto still churning off the Coast of Texas...
TROPICAL STORM HUMBERTO INTERMEDIATE ADVISORY NUMBER 2A
NWS TPC/NATIONAL HURRICANE CENTER MIAMI FL AL092007
700 PM CDT WED SEP 12 2007

...RAIN BANDS OF HUMBERTO SPREADING OVER THE UPPER TEXAS COAST...

A TROPICAL STORM WARNING IS IN EFFECT FROM PORT O'CONNOR TEXAS TO
INTRACOASTAL CITY LOUISIANA.

10 p.m. Radar - Tropical Storm Approaching Coast
Radar Animation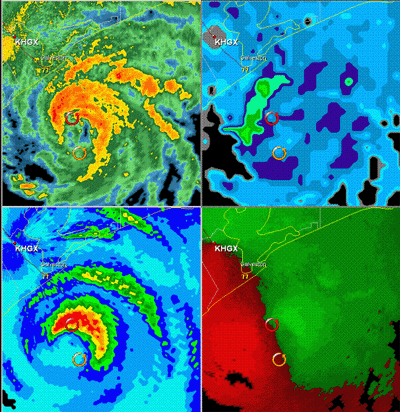 Tropical Storm Humberto is nearing hurricane strength at 11 pm
This image was captured by wrathofnature on EasternusWX.
This is an amazing animation showing the four panels above. You can see the strength of Humberto as he nears the coastline. Winds are over 60 mph this evening. Nearing hurricane force. Further strengthening is likely tonight and HUmberto could become a hurricane before landfall.
September 13, 2007
Hurricane Humberto...
Humberto has strengthened into a weak hurricane this morning. The system strengthened during the late night hours. At 1 a.m. the NHC advised that maximum stained winds had increased to 80 mph.

10 a.m. Humberto
NHC discussion:

BASED ON OPERATIONAL ESTIMATES...HUMBERTO STRENGTHENED FROM A 30 KT DEPRESSION AT 15Z YESTERDAY TO A 75 KT HURRICANE AT 09Z THIS MORNING...AN INCREASE OF 45 KT IN 18 HOURS. TO PUT THIS DEVELOPMENT IN PERSPECTIVE...NO TROPICAL CYCLONE IN THE HISTORICAL RECORD HAS EVER REACHED THIS INTENSITY AT A FASTER RATE NEAR LANDFALL. IT WOULD BE NICE TO KNOW...SOMEDAY...WHY THIS HAPPENED.
I stayed up last night with the EasternusWx crew and watched Humberto strengthen. It was fascinating to see how fast this system took off. There was barely anything on the satellite just 24 hours ago. Boom it exploded and rapidly went from a tropical depression to a hurricane. I don't think anyone thought it would gain strength quiet that fast. Amazing. It will be interesting to read the post-analysis on this particular hurricane.
The weather here in Waterloo is great. Fall like temperatures and beautiful skies. Temperatures should dip into the 30s over the next few nights. There should be some scattered frost around the region. There have been reports of snow in Edmonton today. Moderate snow was reported on several obs.
Heavy rainfall across the Southern United States...



24-48-72 Hour Rainfall Forecast
Hurricane Humberto coming ashore this morning...
Here is the radar view as Humberto made landfall near Beaumont, Texas. Radar Animation.
September 14, 2007
Tropical Storm Ingrid forms in the Atlantic...

Forecast Movement for Ingrid
It is snowing this morning across portions of Minnesota (wish I was there). :) Snow is a good thing. That tells me that winter is right around the corner and thus I can once again enjoy the little white flakes that come floating out of the sky. In the meantime, while we wait, it appears that the seasons first cold air blast will move south and east later today and tonight and spread across the Great Lakes. Temperatures should fall into the 30s across Southern Ontario tonight. The seasons first frost and freeze will impact many areas across the Northern Plains and then spread south and east into Illinois and Wisconsin. Bring out the welcome banner! Colder air is coming.

Temperatures at 10 a.m.
Heavy showers and thunderstorms across Toronto this evening. The rain started here in the city around 5 p.m. Strong winds have been whipping the rain into sheets. There were scattered reports of tree limbs down in the city. Temperatures have started to fall as well...we should see lows tonight in the 30s and 40s across Southern Ontario.
Turn the page for more weather
Home | About | News | Upcoming Events| Photo Gallery | Video | Links | Contact
All Photos are copyrighted by Beau Dodson (unless otherwise clearly stated) and are used on this site with his permission. Any use other than authorized by them is against the law. If you wish to contact him regarding use of these photos, please e-mail me and I will forward it.