September 15, 2007
A chilly morning here in Toronto. Temperatures fell into the 40s last night with strong northwesterly winds. It is sunny, however, and that is making for a beautiful "fall-like" day. Temperatures should warm in the coming days to near normal readings.
September 16, 2007
A quiet weather day across the Toronto Region. I am enjoying the fall lke temperatures. Cool weather covers much of the Northern Plains into the Northeast. A storm system is approaching the Midwest and Northern Plains and this will bring a daily chance for severe weather on both Monday and Tuesday. The main areas of concern will be across the Dakotas and into Minnesota, Nebraska, and Iowa.
September 17, 2007
A quiet weather day across Ontario. Cool temperatures and a light breeze was the rule of the day. Splendid weather! The leaves are starting to turn more and more here in this county. I believe by the end of next week we will be seeing widespread fall colors. Just in time for fall!
September 18, 2007

850 mb map - plenty of warm air rushing northward
Plenty of WAA across the Central United States. Warm air is moving northward in front of a storm system that could spark severe thunderstorms across portions of the Missouri Valley and Northern Plains. The Storm Prediction Center has outlined a rather large slight risk area for today and tonight.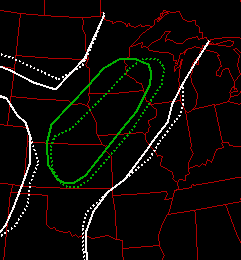 Slight Risk for Today and Tonight

Surface Map
In the tropics...an area of disturbed weather off the Florida Coast should continue to drift westward into the Gulf of Mexico during the coming days. There is a chance that this system could develop into a tropical depression. Stay tuned.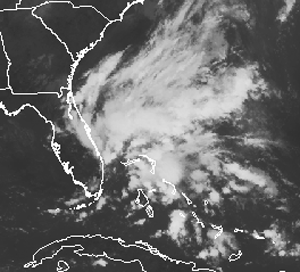 Morning satellite showing the tropical wave...
News Release: Environmental Canada
WINNIPEG- September 18, 2007 - Environment Canada meteorologists have confirmed that the Elie, Manitoba tornado of June 22, 2007 reached F5 intensity, the highest rating on the Fujita tornado damage scale, making it the first officially documented F5 tornado in Canada.
The Fujita scale measures the strength of tornadoes based on damage indicators. An F5 tornado accounts for about one tenth of one percent of all tornadoes in North America.
Preliminary assessment by Environment Canada's onsite storm survey team had earlier indicated clear evidence of F4 damage. However, damage seen at two of the homes indicated possible F5 intensity. Based on further evaluation, including review of additional video images, Environment Canada meteorologists at the Prairie and Arctic Storm Prediction Centre in Winnipeg confirm evidence of F5 level damage.
Environment Canada reports the video confirmed some of the suspected F5 evidence seen onsite in June. An almost intact house can be seen being thrown several hundred metres through the air before disintegrating and falling to the ground. Seconds later a heavy van is seen being whirled through the air; it was later found in an open field south of the main damage.
In order to rate a tornado, only one instance of any one damage indicator has to be clearly met. With two F5 damage indicators occurring within seconds of each other, experts decided to re-evaluate some of the evidence seen in June.
The Elie tornado was on the ground for about 35 minutes, and traveled for a distance of about 5.5 km. Damage occurred in a swath up to 300 metres wide. Wind speeds are estimated to have reached between 420 to 510 km/h when the tornado was at its most intense.
Fortunately, there were no fatalities or serious injuries with either the Elie tornado or the F4 tornado which struck Birtle, Manitoba in 1994. Manitoba's only other documented F4 tornado, which struck the Rosa-St. Malo area in 1977, resulted in three fatalities. The F2 tornado which struck Gull Lake, Manitoba in 2006 caused one fatality and numerous injuries.
Impressive Vort Max Moving Towards California...Snow!
An impressive vort max will slide towards California over the next few days. The NAM (shown below from Wright-Weather) shows this nicely. Mountain snow is in the forecast across portions of California. There is a thread on EasternUSwx concerning this event.

Click for full image
September 19, 2007

Low pressure east of Miami, Florida
All eyes are on the tropics this morning. A weak low pressure area is spinning east of Miami. There is a chance that this could develop over the next day or two. Computer models take the low westward into the Gulf of Mexico. There is much debate as to whether or not this will actually develop into a sub-tropical or tropical system.
September 20, 2007
Absolutely gorgeous weather here in Waterloo, Ontario today! BRILLIANT blue skies. One of the deeper blue skies I have seen in some time. Beautiful is all I can say!
Still watching the tropical disturbance near Florida. Slow development is possible over the next few days.
Dual Doppler Radar Comes To WRAL - Raleigh - Durham
A MILLION watts of power! WRAL is rolling out their new dual polarization radar. Video explanation of the new radar can be viewed here. This new radar can clearly distinguish between heavy rainfall, snow, ice, sleet, hail, and false echoes. The Dual Polarization radar has far superior rainfall total estimates than conventional Doppler radar.
September 21, 2007
We have a tropical depression in the Gulf of Mexico this morning. No real surprises here. Looks like the system could gain a little bit of intensity as we move through the day. Perhaps we will have Tropical Storm Jerry before all is said and done. The main threat from this system will be isolated tornadoes across portions of Florida and extreme Southern Georgia, Alabama, and eventually Mississippi. It appears that this system will slowly move towards the west/northwest over the next few days.
The Storm Prediction Center has outlined a moderate risk for severe thunderstorms and tornadoes across portions of Wisconsin for this afternoon and tonight.
September 22, 2007
Tropical depression 10 moved ashore yesterday will little fanfare. Heavy rains and gusty winds were the main impact. Florida was hit the hardest by the system with one tornado damaging more than 50 homes. Otherwise the tropics are fairly quiet at this time. The National Hurricane Center is watching a disturbance in the Caribbean. There could be some slow development in the coming days.
September 26, 2007
I am in Germany for a few days. Lot of light rain and drizzle across this region. Temperatures are chilly as well. The leaves are just starting to turn colors. A lot of yellow and orange colors. Temperatures last night fell into the 50s. There was a bit of fog this morning.

Fall in Radoltzen, Germany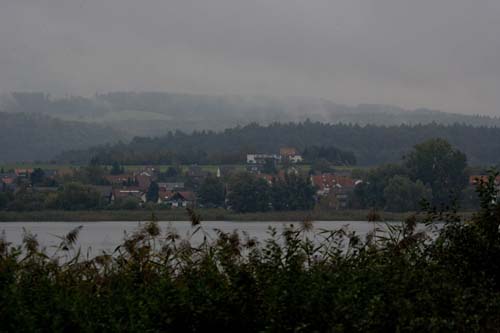 Foggy morning in Radoltzen, Germany.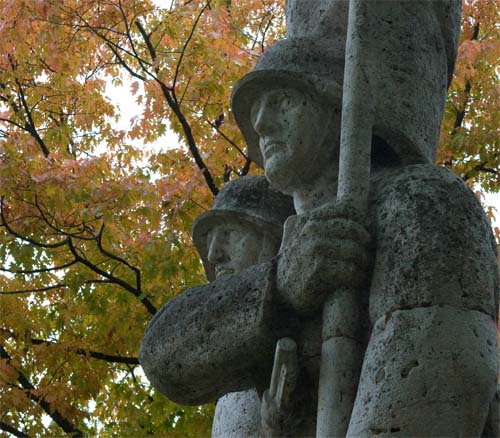 Some fall color here in the city.

Radoltzen, Germany

Bodensee in Germany - September 25th

Sunset Bodensee - Germany
September 27, 2007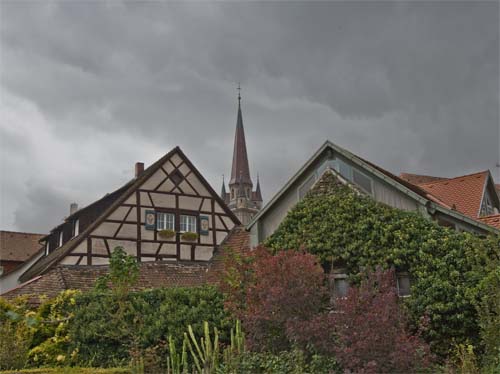 Stormy sky over Radoltzen, Germany. Rain fell almost continuously during the
past 24 hours.
September 28, 2007
It is a rainy day here in London. Clouds cover much of Europe as a storm systems winds up and spreads moisture across a large chunk of real estate. It has been raining on and off all day here in the city center. Looks like the rain will continue through tomorrow.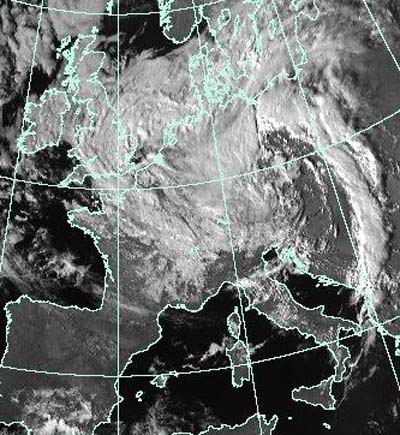 Europe - Visible Satellite Image
September 29, 2007
Pennsylvania Severe Weather Outbreak Update
Strong wind shear, abnormally warm temperatures, and high humidity for late September combined to produce severe thunderstorms - and one confirmed tornado near Tidioute, PA - over Northwest PA during the evening of Wednesday, 26 September 2007.

Numerous reports of funnel clouds were received that evening in real time as the event was on-going.

See the maps/pictures below for a quick summary of the storms Wed Evening.
A storm damage survey team investigated damage in Warren County on Friday. See their findings below:
NOUS41 KCTP 282009
PNSCTP
PAZ004-290015-

PUBLIC INFORMATION STATEMENT
NATIONAL WEATHER SERVICE STATE COLLEGE PA
409 PM EDT FRI SEP 28 2007

...FINAL DAMAGE SURVEY RESULTS FOR WARREN COUNTY...

...AN EF1 TORNADO OCCURRED NEAR TIDIOUTE WEDNESDAY EVENING IN
SOUTHERN WARREN COUNTY...

THE FOLLOWING IS A FINAL ASSESSMENT FOR THE DAMAGE THAT OCCURRED
IN WARREN COUNTY ON SEPTEMBER 26, 2007.

* EVENT DATE: SEPTEMBER 26, 2007

* ESTIMATED START TIME: 600 PM

* ESTIMATED END TIME: 610 PM

* EVENT TYPE: EF1 TORNADO

* EVENT LOCATION: FROM 2 MILES NORTHEAST OF TIDIOUTE TO 5 MILES
NORTHEAST OF TIDIOUTE.

* PEAK WIND: ESTIMATED AT 90-100 MPH.

* AVERAGE PATH WIDTH: 25 YARDS.

* PATH LENGTH: 3 MILES.

* INJURIES: NONE REPORTED.

* FATALITIES: NONE REPORTED.

* DISCUSSION/DAMAGE: THE TORNADO TOUCHED DOWN TWO MILES NORTHEAST
OF TIDIOUTE IN SOUTHERN WARREN COUNTY, THEN TRACKED NORTHEAST
ALONG THE ALLEGHENY RIVER FOR AN ADDITIONAL THREE MILES. SEVERAL
HUNTING CABINS AND UNINHABITED DWELLINGS WERE DAMAGED FROM THE
STORM. IN ADDITION, SEVERAL HUNDRED TREES WERE TOPPLED OR
DAMAGED ALONG THE TORNADO PATH. SEVERAL EYEWITNESSES SAW THE
DESCENDING FUNNEL CLOUD IN THE VICINITY OF TIDIOUTE AND ONE
REPORTED SEEING THE TORNADO ON THE GROUND NORTHEAST OF TIDIOUTE.

&&

FOR REFERENCE...THE ENHANCED FUJITA SCALE CLASSIFIES TORNADOES INTO
THE FOLLOWING CATEGORIES:

EF0...WIND SPEEDS 65 TO 85 MPH.
EF1...WIND SPEEDS 86 TO 110 MPH.
EF2...WIND SPEEDS 111 TO 135 MPH.
EF3...WIND SPEEDS 136 TO 165 MPH.
EF4...WIND SPEEDS 166 TO 200 MPH.
EF5...WIND SPEEDS GREATER THAN 200 MPH.

$$

PRELIMINARY LOCAL STORM REPORT...SUMMARY
NATIONAL WEATHER SERVICE STATE COLLEGE PA
720 PM EDT WED SEP 26 2007

..TIME... ...EVENT... ...CITY LOCATION... ...LAT.LON...
..DATE... ....MAG.... ..COUNTY LOCATION..ST.. ...SOURCE....
..REMARKS..

0548 PM TSTM WND DMG TIDIOUTE 41.68N 79.40W
09/26/2007 WARREN PA EMERGENCY MNGR

PHONE LINES DOWN. HAIL ALSO REPORTED.

0550 PM HAIL TIDIOUTE 41.68N 79.40W
09/26/2007 E1.75 INCH WARREN PA EMERGENCY MNGR

HAIL AND FUNNEL CLOUD SPOTTED.

0608 PM FUNNEL CLOUD 3 WSW CLARENDON 41.76N 79.15W
09/26/2007 WARREN PA EMERGENCY MNGR

FUNNEL CLOUD SPOTTED AT CHAPMAN STATE PARK.

0610 PM HAIL CLARENDON 41.78N 79.10W
09/26/2007 E0.75 INCH WARREN PA PUBLIC

PENNY-SIZE HAIL REPORTED IN CLARENDON.

0620 PM FUNNEL CLOUD WARREN 41.84N 79.14W
09/26/2007 WARREN PA FIRE DEPT/RESCUE

THREE FUNNEL CLOUDS SPOTTED OVER WARREN.

Storm complex moving into western Warren County, note the bookend vortex already forming.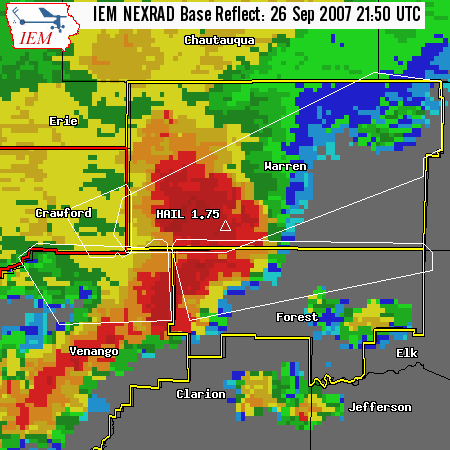 Storm as it produced golf-ball size hail in Tidioute.
Storm as it is entering Western McKean County.
SNOW ON MT. HOOD - WINTER IS COMING FOLKS JUST BE PATIENT!

Mt. Hood Web Cam

September 30, 2007
Strong to severe thunderstorms lined up this evening across the Northern Plains down into the Missouri Valley. Several severe weather watches and warnings were issued. At least three tornadoes were reported in Iowa. No injuries but some damage occurred with the stronger storms.


500mb Vort Chart and WeatherTap Radar


Tuesday Event
Turn the page for more weather
Home | About | News | Upcoming Events| Photo Gallery | Video | Links | Contact
All Photos are copyrighted by Beau Dodson (unless otherwise clearly stated) and are used on this site with his permission. Any use other than authorized by them is against the law. If you wish to contact him regarding use of these photos, please e-mail me and I will forward it.