September 6, 2007
There are strange drops falling outside my window this morning. I am not sure what to make of this. Upon closer inspection it appears that WATER is falling from the sky. I know it is hard to believe. I checked my sprinklers and they are OFF. This must be what is called rain. I have grabbed my meteorology books and poured through them all morning - yes this is RAIN. A rare watery substance that falls from clouds to the earth below. Don't panic people this is considered NORMAL in some parts of the country. Try to stay calm! Lone Oak picked up 0.32" of rainfall today. The most rain we have had since late July.
Chuck Doswell's Home Page - Want to learn more about the world of meteorology?
One of the pioneers of tornado study, Chuck Doswell has an amazing web-page full of informative commentary and information. You can visit his site at this link. Well worth your time and effort if you are in pursuit of a deeper knowledge about the weather and those who forecast it.
____________________________________________________________


Living in Massac County, Illinois - on top of a hill
When I was a little boy, I lived on top of a nice hill in Massac County. From this hill you could see the surrounding countryside. Mile after mile of fields, hills, houses, and roads. Perhaps this is one reason that I am so interested in weather today. That and the big blizzards of the late 1970s! I was just a kid when those snowstorms pummeled the Ohio Valley. Even though I was young I will never forget them. Snowdrifts were up and over my head! It was a kids fantasy come true. No school for over a week. More snow than a kid knew what to do with. Trapped in our house unable to get down the snow covered lane. It was a winter wonderland gone wild.
In bad weather living on top of a hill is the best, you can see the storms coming and going. The storms would blow in and shake the house with their ferocious winds. I would peer up over the ledge of the window, in my sisters bedroom where we took shelter, and watch the tree in the front yard whipping back and fourth. You could feel the wind on the house. I felt scared and excited at the same time. I loved storms. I have no idea why I loved storms…I just loved them. I loved to watch the lightning late at night while sitting out on the front porch. The warm breeze blowing in my face, the distant rumble of thunder, the sound of rain approaching through the cornfields. All of this helped spark my interested in meteorology. Perhaps one day I can find another hill like that. A place to watch the sun setting in the west…and rising in the east.
____________________________________________________________

Severe Thunderstorms Approaching Southeast Missouri and Southern Illinois
A line of severe and occasionally tornadic thunderstorms are approaching our western counties. This area of storms should move across Southeast Missouri through the evening and Southern Illinois as well. Portions of Western Kentucky could see activity after 7:30 p.m.

KPAH Radar
September 7, 2007
NOAA Reports La Nina Developing...
September 6, 2007 — Scientists with NOAA's Climate Prediction Center, in today's release of its monthly El Niño/Southern Oscillation (ENSO) Diagnostic Discussion, say that La Niña is on its way. (Click NOAA image for larger view of observed sea surface temperatures on August 29, 2007. Please credit "NOAA.")
"While we can't officially call it a La Niña yet, we expect that this pattern will continue to develop during the next three months, meeting the NOAA definition for a La Niña event later this year," said Mike Halpert, acting deputy director of the Climate Prediction Center in Camp Springs, Md.
La Niña refers to the periodic cooling of ocean surface temperatures in the central and east-central equatorial Pacific that occur every three to five years. NOAA declares the onset of a La Niña event when the three-month average sea-surface temperature departure exceeds -0.5 degrees Celsius (-0.9 degrees Fahrenheit) in the east-central equatorial Pacific [between 5 degrees North and 5 degrees South and 170 degrees West - 120 degrees West].
More information can be viewed at this web-site.
____________________________________________________________

Peoria, Illinois 2006 - Discovered some photos on my hard-drive.
I found a few more photographs from my Peoria, Illinois Snow Chase - December 1, 2006. You can view all of the photographs by visiting this site - page seven. I can't wait until this chase season begins!
Showers and heavy thunderstorms moving into the region...
A large area of showers and thunderstorms is approaching are area from Missouri. This line of storms will continue to push east through the day. Some of the storms could be strong or ever severe with high winds and isolated tornadoes. Heavy rainfall is going to be a threat through the day.


Paducah Radar and 5 Day Rainfall Forecast
Tropical Depression Forming?

Tropical Weather This Weekend?

Tropical Weather Threat
SPECIAL TROPICAL DISTURBANCE STATEMENT
NWS TPC/NATIONAL HURRICANE CENTER MIAMI FL
845 AM EDT FRI SEP 07 2007

SATELLITE IMAGES INDICATE THAT THE AREA OF LOW PRESSURE LOCATED
BETWEEN BERMUDA AND THE SOUTHEAST U.S. COAST HAS BECOME BETTER
ORGANIZED OVERNIGHT. UPPER-LEVEL WINDS ARE BECOMING MORE FAVORABLE
FOR ADDITIONAL DEVELOPMENT...AND A TROPICAL DEPRESSION COULD FORM
LATER TODAY. AN AIR FORCE RESERVE HURRICANE HUNTER AIRCRAFT IS
SCHEDULED TO INVESTIGATE THIS SYSTEM THIS AFTERNOON. THE LOW IS
FORECAST TO MOVE GENERALLY WESTWARD OR NORTHWESTWARD DURING THE
NEXT COUPLE OF DAYS...AND INTERESTS ALONG THE EAST COAST OF THE
UNITED STATES SHOULD CLOSELY MONITOR THE PROGRESS OF THIS SYSTEM.


$$
FORECASTER KNABB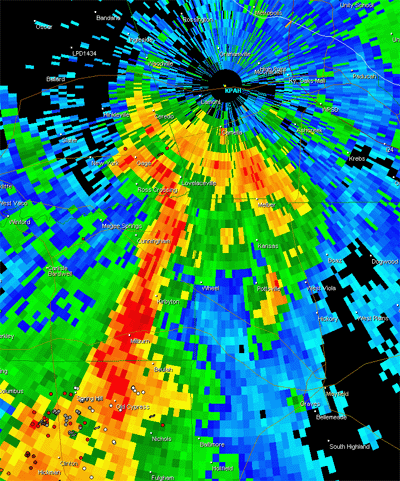 Storms moving into Paducah, KY and Lone Oak - 3 p.m. Central Time
WONT41 KNHC 072106
DSAAT 
SPECIAL TROPICAL DISTURBANCE STATEMENT
NWS TPC/NATIONAL HURRICANE CENTER MIAMI FL
505 PM EDT FRI SEP 07 2007


THE AIR FORCE RESERVE HURRICANE HUNTER AIRCRAFT INVESTIGATING THE
LOW PRESSURE SYSTEM BETWEEN BERMUDA AND THE SOUTHEAST U.S. COAST
HAS NOT YET IDENTIFIED A WELL-DEFINED CLOSED SURFACE CIRCULATION. 
THE AIRCRAFT WILL CONTINUE TO INVESTIGATE THIS SYSTEM...AND IT
COULD BECOME A TROPICAL OR SUBTROPICAL CYCLONE AT ANY TIME AS IT
MOVES WEST-NORTHWESTWARD AT ABOUT 10 MPH.  INTERESTS ALONG THE
SOUTHEAST AND MID-ATLANTIC COAST OF THE U.S. SHOULD CLOSELY MONITOR
THE PROGRESS OF THIS SYSTEM...AND TROPICAL STORM WATCHES COULD BE
ISSUED THIS EVENING.

$$
FORECASTER KNABB



Farmers Almanac 2007 - Winter Ahead!

  Well the Farmers Almanac is out with its WINTER OUTLOOK!  Now this is
not the Old Farmers Almanac but rather the Farmers Almanac.  It sounds
like they are going COLD for the Ohio Valley and Northeast.  You can
view their entire forecast and web site by visiting this link.  
"Mother Nature is once again keeping all of us on our toes," reveals Editor and Philom.,Peter Geiger, " we know she likes to throw curve balls at us from time to time and this winter it looks as though she's going to reveal a possible split personality."

The 2008 Farmers' Almanac long-range forecasts are calling for colder than normal conditions for the eastern half of the country – chiefly those areas east of the Mississippi –with snowier than normal conditions expected.

For the western half of the country - mainly those areas west of the Mississippi – the overall winter will be milder than normal, with near or below normal precipitation. Quite a change from last year, when cold and stormy weather came blasting.

"This is not to say that there won't be any snow in the North Central region," shares Geiger, "but we do feel that overall Mother Nature is showing no mercy to the east and being a little more forgiving in the west."

The 2008 Farmers' Almanac predicts that skiers in eastern New York and New England will enjoy some great conditions (click here for our skiing outlook). The winter should also average as much as three degrees below normal down most of the Atlantic Coast, from New England through the Mid-Atlantic and the Piedmont into the Southeast. Cold conditions are on tap for the Southeast, with at least four cold frosts predicted all the way to Florida.

Cold and snowy weather should also prevail over the Great Lakes region. Even as far south as the central and eastern Gulf Coast, unseasonably chilly temperatures will prevail. In contrast, the Great Plains, the Rocky Mountains, the Southwest desert, and the Pacific Coast should enjoy a relatively mild and somewhat drier than normal winter overall. For some locations, the amount of wintertime precipitation – rain or snow – could average from one quarter to as much as one half below the seasonal norm. Quite a contrast to last year.
And near and along the boundary zone between the mild, tranquil West and the cold, stormy East, we look for some large-scale weather vacillations: from wintry to spring like and back to wintry, almost like a meteorological pendulum undergoing a series of pretty wild swings.

THE REST OF THE YEAR . . .
Spring looks cool and somewhat wet for many areas. Across Tornado Alley in the nation's heartland, 2008 should be an unusually active season.

Summer will be uniformly warmer than normal across much of the nation. Precipitation will average near or somewhat below normal, except over much of the central U.S. where higher than normal rainfall will occur. Parts of the Midwest and the Mid-Atlantic in particular will see occasional bouts of very heavy rainfall, from heavy showery rains and locally strong thunderstorms, and in part generated by tropical activity (see below). Heavier than normal rainfall may also fall over some of the Plains and Rockies. In contrast, we are forecasting much lower than normal precipitation amounts along the Pacific Coast. Cooler and drier weather should take hold during the fall, followed by a spell of cold and unsettled conditions in November and December.

We expect an active tropical season in 2008, with the Gulf Coast directly in the crosshairs for hurricanes in mid-July, mid-August, and mid-September. The associated tropical moisture from such systems is likely to flow northward, creating a threat of excessive rainfall over many eastern locations. The traditional peak of the hurricane season occurs on September 10.
Subtropical Storm Gabrielle Forms off the Southeast Coast...
BULLETIN
SUBTROPICAL STORM GABRIELLE ADVISORY NUMBER 1
NWS TPC/NATIONAL HURRICANE CENTER MIAMI FL AL072007
1100 PM EDT FRI SEP 07 2007

...LOW PRESSURE AREA OFF SOUTHEASTERN COAST OF THE UNITED STATES
DEVELOPS INTO SUBTROPICAL STORM GABRIELLE...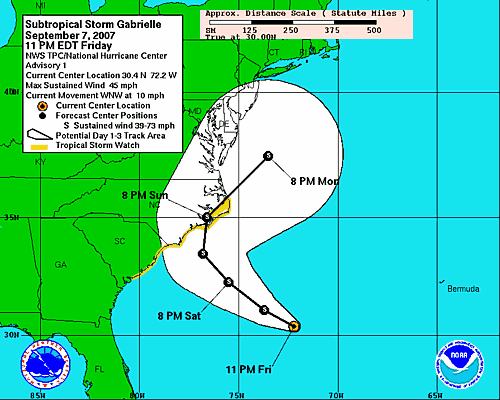 Forecast Path from the National Hurricane Center

HurrTrak Forecast Path

September 8, 2007
Extremely heavy rainfall is still falling across portions of Missouri. Some areas have already received 5-10 inches of rain. Incredible amounts for the drought stricken areas. Meanwhile, this area has not received nearly that much. We have picked up less than an inch from this entire event. It appears that heavier rain will be possible today and tonight across Paducah. I will hold out hope that the much need rains will actually make it into my county.


Rainfall Totals From Springfield, MO and Paducah, KY
Gabrielle continues to churn off the Southeast Coast...
Subtropical Storm Gabrielle continues to move slowly west/northwest towards the Carolinas this morning. Maximum sustained winds are only 45 mph. The main impact from this storm will be beach erosion and some locally heavy rains. A tropical storm warnings has been issued from Surf City North Carolina northward to the North Carolina/Virginia Border.


Gabrielle Forecast Path
Rain moving into Lone Oak and Paducah...

My tower cam is WET this afternoon! About time!


2 pm - Paducah, KY Radar
There has been a thread started concerning the heavy rainfall across Oklahoma, Missouri, and Illinois. The thread can be found here on EasternUSwx.
____________________________________________________________

Paducah, Kentucky National Weather Service Office Announces A Regional Customer Service Workshop...
The National Weather Service in Paducah Kentucky cordially invites you to our first ever Customer Service Workshop! This workshop is an unprecedented event, which will give you the best opportunity to learn more about the different weather and water products and services from the National Weather Service. These products and services can be used to benefit your decision making process in your day to day operations.
At this workshop:
*** You will learn about many different types of information we can offer, from weather forecasts to severe weather information to navigating our extensive website.
*** We will be seeking information from a wide variety of you that we serve, to help us understand what we need to do to improve our products and services to you.
*** You will have plenty of opportunity to advise us of your needs and how we can better serve you. Go ahead – state your claim - tell us what needs to be changed, added or done better!
We are here for you and anxious to learn about how we can make improvements to our agency based on your input. Numerous staff members of the National Weather Service in Paducah will be available to answer questions and gather information from you. This is a free workshop and will be followed by our annual winter weather workshop during the afternoon.
We will be holding our workshops in four locations:
Missouri Workshop: Nov. 6th, 2007 Clinton Building in Sikeston, MO
Illinois Workshop: Nov. 8th, 2007 John A Logan College - O'Neil Auditorium in Carterville, IL
Kentucky Workshop: Nov. 13th, 2007 Area 2 State Fire Rescue Training Center in Princeton, KY
Indiana Workshop: Nov. 15th, 2007 Southern Indiana Career Technical Center, Evansville, IN
Attached to this email, you will find the agenda and directions to the workshop that we thought would be closest to you depending on which state you reside/work in. However, you are more than welcome to choose whichever workshop works best for you. If you would like directions to another location or have any questions, please email Christine.Wielgos@noaa.gov or Ricky.Shanklin@noaa.gov.
Important: You will need to register online for this workshop via the following address:
http://www.crh.noaa.gov/pah/workshop
If you would like to send someone else as your proxy for this workshop, please forward this email to whomever you think would best benefit from this event.
In the unlikely event of a major hazardous weather situation on the date of the workshop, we might have to reschedule the event. In that case, you would receive notification of the change via email.
Please RSVP (even if you do not plan on attending) and register for this workshop by October 31, 2007.
Sincerely,
Christine Wielgos
Meteorologist
National Weather Service - Paducah, KY
8250 KY HWY 3520
West Paducah, KY 42086
____________________________________________________________

Tropical Storm Gabrielle...evening
Gabrielle continues to move towards the northwest at 12 mph. Outer rainbands are starting to impact the Outer Banks of North Carolina. Winds are only sustained at 40 mph with Gabrielle. Little wind damage impact is expected. Beach erosion and heavy rainfall will likely be the main problems with this system.


North Carolina Radar
Turn the page for more weather
Home | About | News | Upcoming Events| Photo Gallery | Video | Links | Contact
All Photos are copyrighted by Beau Dodson (unless otherwise clearly stated) and are used on this site with his permission. Any use other than authorized by them is against the law. If you wish to contact him regarding use of these photos, please e-mail me and I will forward it.