August 29, 2007
Paducah, Kentucky Receives Measurable Rainfall...
The National Weather Service Office in Paducah, Kentucky received 1.16" of rainfall yesterday evening. This is the first significant rainfall in over a month. Other areas near the NWS Office received little or no rainfall. Lone Oak, 5 miles southeast of the NWS Office, received a trace. The drought continues.
If anyone is looking for 24 hour radar loops then here are a few sites.
Scattered showers and thunderstorms blanket the Missouri, Illinois, Indiana, Kentucky, and Tennessee Region this afternoon. So far, Lone Oak has picked up 0.05" of rainfall. This is the most rain we have received in over a month. Other areas in Kentucky have received 1-3 inches of rainfall today.

KPAH Radar This Afternoon
Cappuccino Coast!
Cappuccino Coast: The day the Pacific was whipped up into an ocean of froth
By RICHARD SHEARS - Last updated at 08:27am on 28th August 2007

Photo by Icon Images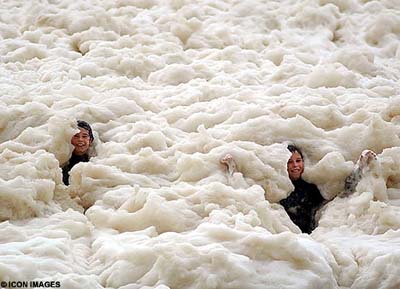 Photo by Icon Images

It was as if someone had poured tons of coffee and milk into the ocean, then switched on a giant blender. Suddenly the shoreline north of Sydney were transformed into the Cappuccino Coast.

Foam swallowed an entire beach and half the nearby buildings, including the local lifeguards' centre, in a freak display of nature at Yamba in New South Wales.

One minute a group of teenage surfers were waiting to catch a wave, the next they were swallowed up in a giant bubble bath. The foam was so light that they could puff it out of their hands and watch it float away.

It stretched for 30 miles out into the Pacific in a phenomenon not seen at the beach for more than three decades.

Scientists explain that the foam is created by impurities in the ocean, such as salts, chemicals, dead plants, decomposed fish and excretions from seaweed.

All are churned up together by powerful currents which cause the water to form bubbles.

These bubbles stick to each other as they are carried below the surface by the current towards the shore.

As a wave starts to form on the surface, the motion of the water causes the bubbles to swirl upwards and, massed together, they become foam.
The foam "surfs" towards shore until the wave "crashes", tossing the foam into the air.

"It's the same effect you get when you whip up a milk shake in a blender," explains a marine expert.

"The more powerful the swirl, the more foam you create on the surface and the lighter it becomes."

In this case, storms off the New South Wales Coast and further north off Queensland had created a huge disturbance in the ocean, hitting a stretch of water where there was a particularly high amount of the substances which form into bubbles.

As for 12-year-old beachgoer Tom Woods, who has been surfing since he was two, riding a wave was out of the question.

"Me and my mates just spent the afternoon leaping about in that stuff," he said.
"It was quite cool to touch and it was really weird. It was like clouds of air - you could hardly feel it."
August 30, 2007
The National Hurricane Center is tracking several "invests" none of them look very promising for rapid development. There is one system that is close to the Eastern United States. Invest 96L.

Satellite 96L
Thoughts on the new EF-Scale: Tornado rating consistency and the QRT by Chuck Doswell.
Great article concerning the tornado rating scale. Well worth reading for those interesting in such topics.
Severe thunderstorms moving through Maine this afternoon...

Severe thunderstorms raking Maine this afternoon
Severe weather reports can be viewed here.
National Weather Association - Four Rivers Chapter...
The Four Rivers Chapter of the NWA had their regular meeting Tuesday Night. The meeting was held at WPSD TV 6 - NBC, located in Paducah, Kentucky. We had a great meeting with more than 15 people in attendance. We had a wonderful host - Meteorologist Jennifer Rukavina showed everyone around the stations weather center. Jennifer is one of the weather anchors for News Channel Six.

Meteorologist Jennifer Rukavina shows everyone how to use
the blue screen. She told us that News Channel Six is upgrading
all of the cameras to digital. This means they will be able to use
the green screen again.

National Weather Service Meteorologist Pat Spoden gives it a try.
Zooming in and out of the local radar image.

Meteorologist Jennifer Rukavina shows everyone the stations
weather center.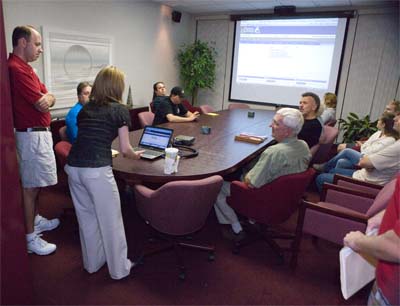 Discussing upcoming events.
August 31, 2007
Welcome to the end of August...one of the hottest and driest months ever for Lone Oak. The hottest month on record for Paducah, Kentucky and hundreds of other towns and cities across the Central and Southern United States. Incredible heat this month. Some areas have averaged high temperatures in the upper 90s to nearly 100.
The tropics are starting to perk up a little bit. Nothing major though and no rapid development is expected. One system near the Windward Islands does need to be monitored for a possible upgrade from wave to depression.
September begins tomorrow! I am sure most people are anxious to just move on from this horrible summer heat and drought. Let's hope that the fall rains come early this year. Countdown to Winter Storm Chase Season will start in 24 hours!!!! I made our final order for snow boots this afternoon - for New England! Now we just need the snow!!!!

Snow boots for New England!
Tropical Depression Number Six...
Tropical Depression Number Six has formed east of the Windward Islands. The system is expected in increase in strength overnight tonight and could become a tropical storm by tomorrow morning. This storm will likely not impact the United States.



National Hurricane Center Path Forecast
Turn the page for more weather
Home | About | News | Upcoming Events| Photo Gallery | Video | Links | Contact
All Photos are copyrighted by Beau Dodson (unless otherwise clearly stated) and are used on this site with his permission. Any use other than authorized by them is against the law. If you wish to contact him regarding use of these photos, please e-mail me and I will forward it.