August 23, 2007
Record Heat Continues...
It is hot. How hot it is? The National Weather Service Office at Paducah, Kentucky, has said that this is warmest month EVER recorded in the history of this city. Incredible. Not only is it the warmest month ever but it is also the driest month ever. I have measured 0.00" so far for the month. It can't get any drier than that. Is there any relief in site? Perhaps. A frontal system will approach the region this weekend. We should see at least a slight increase in showers and thunderstorms across the area. It appears, however, that this will be temporary relief. Heat and dry weather should return next week. A break in the pattern is much needed...but does not appear to be in the cards at this time.
Numerous fires have been reported across Western Kentucky over the last few days. At least one of the fires burned more than 1000 acres. The threat for a severe fall fire season is increasing. Let's hope we see some rain...and soon.

August 22 High Temps
____________________________________________________________

Hurricane Dean moved ashore, in Mexico, yesterday for the second time. Once again lashing the Mexican Coastline with high surf and damaging winds. There have been no reports of deaths in Mexico, as of last night. The hurricane weakened to a tropical depression as of 10 PM last night. The National Hurricane Center issued its last bulletin on the system at that time. The hurricane caused billions of dollars in damage along its path through the Caribbean and into Mexico. It will be a few weeks before we know the final damage totals.


Path of Hurricane Deans winds - NHC
____________________________________________________________

Amazing Mammatus photographs have been posted by Mike Hollingshead. As always he has posted some incredibly beautiful photographs. I would have loved to been on this storm. More photos here.
____________________________________________________________

40 Injured in Chicago Storms...

Thunderstorm roar through Chicago with 70+ MPH winds.
Severe thunderstorms roared through Chicago, and Northern Illinois, this afternoon with winds gusting to over 70 mph. Significant tree damage was reported throughout West Chicago - along with at least one partial building collapse. A warehouse roof collapsed injuring at least 40 people. There were several unconfirmed reports of tornadoes. The NWS will likely be conducting storm surveys to determine the exact nature of the storms. An impressive hook formed on the front of the storm - as seen from this image grab on EasternUSwx by tornadotony. This large radar animation shows the bow echo approaching the city. Satellite animation shows additional thunderstorms building this evening. Bulletin Board Thread on the topic can be found here.


Satellite Images of the severe thunderstorm line
____________________________________________________________

Monster Hail Confirmed in South Dakota...
PUBLIC INFORMATION STATEMENT
NATIONAL WEATHER SERVICE SIOUX FALLS SD
335 PM CDT THU AUG 23 2007
..LARGER HAILSTONE CONFIRMED IN DANTE SOUTH DAKOTA
LARGE HAIL FELL ACROSS PORTIONS OF SOUTHEAST SOUTH DAKOTA TUESDAY
EVENING AUGUST 21 2007. THE SMALL COMMUNITY OF DANTE...IN SOUTHEAST
CHARLES MIX COUNTY...TOOK A DIRECT HIT FROM THE LARGE HAIL. MOST
HOMES IN DANTE SUSTAINED CONSIDERABLE HAIL DAMAGE...WITH HOLES
PUNCHED IN ALMOST EVERY ROOF IN TOWN BY THE LARGE HAIL.
THE NATIONAL WEATHER SERVICE SURVEYED THE DAMAGE AND ON WEDNESDAY
FOUND THE LARGEST HAILSTONE TO BE 5.25 INCHES IN DIAMETER.
FURTHER INVESTIGATION HAS REVEALED A LARGER HAILSTONE AND A SECOND
NWS SURVEY WAS CONDUCTED TODAY.
A HAILSTONE MEASURING APPROXIMATELY 7.00 INCHES IN DIAMETER...WITH A
CIRCUMFERENCE OF 18.00 INCHES AND A WEIGHT OF 1.0 POUND WAS LOCATED IN DANTE. THE NWS WILL BE WORKING WITH THE STATE CLIMATOLOGIST TO
CONFIRM THIS HAILSTONE AS A NEW STATE RECORD. THE CURRENT SOUTH
DAKOTA HAILSTONE RECORD...DATING BACK TO 1950...IS 6.00 INCHES IN
CUSTER COUNTY ON JUNE 22 1968.
THE CURRENT NATIONAL HAILSTONE RECORD OCCURRED AT AURORA NEBRASKA ON
JUNE 22 2003. SIMILAR TO THE DANTE HAILSTONE...IT MEASURED 7 INCHES
ACROSS...BUT THE 2003 AURORA HAILSTONE HAD A LARGER CIRCUMFERENCE OF
18.75 INCHES...COMPARED TO THE DANTE CIRCUMFERENCE OF 18 INCHES.
PICTURES OF THE TWO DANTE HAILSTONES AND DANTE HAIL DAMAGE WILL BE
POSTED TO THE WFO SIOUX FALLS WEB PAGE AT WWW.WEATHER.GOV/FSD
BY 6 PM CDT THIS EVENING AUGUST 23 2007
.
Photos from the Sioux Falls, SD NWS Web-Site
Photos from the Sioux Falls, SD NWS Web-Site
August 24, 2007
More severe thunderstorms are on tap for today across portions of Missouri, Illinois, and Indiana. A moderate risk has been issued by the Storm Prediction Center. An ongoing MCS this morning will bring heavy rainfall to much of that region.
Getting tired of this hot and dry weather across Western Kentucky. I wish it would rain here. I know a lot of farmers that have lost everything because of the drought. Temperatures have been above 90-107 all month. There is some relief in sight...a frontal system will approach the region tonight and tomorrow. This will bring a chance of showers and thunderstorms. Not enough to break the drought. Temperatures will climb back into the 90s next week.
More information on the drought can be found here.

August 23 High Temps and 24 Hour Rainfall
____________________________________________________________

Virginia Beach Lightning...
Jesse V. Bass III has posted some amazing lightning photographs, from Virginia Beach, on his web-site. You can view them here.
____________________________________________________________

Chicago Newspaper Headlines From Yesterdays Severe Weather Outbreak...


August 26, 2007
Severe weather that swept across portions of the Ohio Valley and Midwest brought severe flooding to portions of Illinois over the past few days. Water is just now starting to recede in some of the hardest hit areas. I took a few photographs from the Kankakee, Illinois community. They did not sustain the worst damage from the storms but still had significant flooding. Thanks goes to Tony Crouch for showing me the area.

Kankakee River overflowing its banks.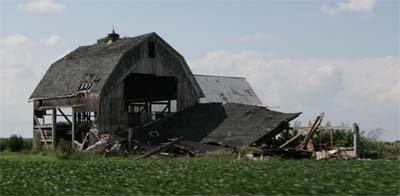 Barn damage from high winds.

Numerous roads around the Kankakee area had
flood waters over them.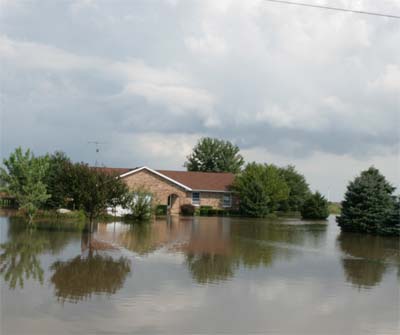 Some houses were also flooded in the area.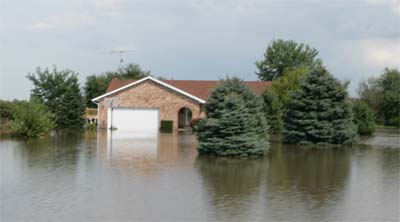 This mobile home sustained major roof damage from the high
winds. Winds were estimated at 60 mph. Golfball size hail was
also reported from the Thursday Night storm.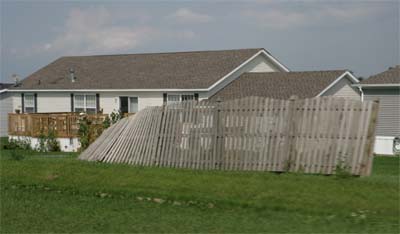 There were a number of power poles that were ripped apart.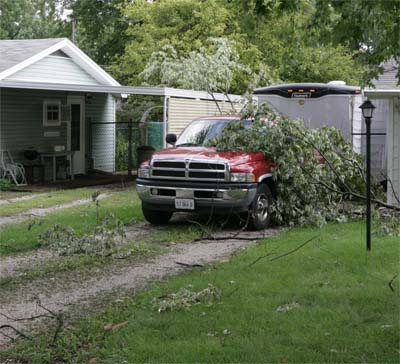 Tree limbs fell on cars and houses.
Cooler Temperatures? Drought continues...
Could it be that the intense heat wave could be over soon for this region? Medium range models are certainly hinting of just that. Cooler temperatures, by the end of this week and into the weekend, will bring much needed relief from the 90s and 100s that have plagued our region for the last month. Hopes for rain, though, are fading. Guidance is starting to show less and less precipitation with the frontal boundary. We have not had rain at my house for more than 30 days. The drought continues. There are some hints of an overall pattern change later next week. We will just have to wait and see if the models are correct. September always does bring change. I am sure this year will be no different. It is too late for the famers though.

30 and 90 Day Percent of Normal Rainfall - Palmer Drought Index
Turn the page for more weather
Home | About | News | Upcoming Events| Photo Gallery | Video | Links | Contact
All Photos are copyrighted by Beau Dodson and are used on this site with his permission. Any use other than authorized by them is against the law. If you wish to contact him regarding use of these photos, please e-mail me and I will forward it.