November 2008
November 01, 2008
It still appears that a strong storm system will pull into our region by Wednesday and Thursday. Unsure on the extent of the severe weather. The SPC has highlighted areas to our west for Wednesday.
On another note it appears that the middle to end of November will turn cold across much of the nation. I am expecting numerous cold waves to move through the Paducah region. The pattern will be dominated by a northwest flow. Wave after wave of cold air will pour into the region.
The big question will be whether or not we can pull at least one snowfall out of this type of setup.
November 03, 2008
Thunderstorms are expected across our region (western Kentucky/southern Illinois) on Thursday afternoon and into the evening hours. I am not overly impressed about the potential for severe weather in my counties. A few warnings are possible, though.
Chilly weather will move into the region behind the area of low pressure. Blizzard conditions are forecast for portions of the plains.
November 07, 2008
Paducah, Kentucky picked up several light to moderate showers yesterday. We picked up between 0.10-0.25" of rainfall. I never did hear thunder, though. Winds have been strong and gusty since yesterday morning.
The severe weather remained west and south of our region over the past few days. About as expected.
Today was a beautiful day across the region. Brilliant blue sky and gusty winds ushered in cooler temperatures. Temperatures were in the lower 50s by 1 PM.
It looks like our next rain chance will come on Tuesday.
November 10, 2008
Rain will be moving into our region (western Kentucky/southern Illinois) during the next 24 hours. I am not expecting or forecasting heavy rain. Some moderate showers will be possible. It appears that rainfall totals of 0.25"-0.75" will be most common across the region. No real threat of severe weather.
Interesting to note is the long term pattern (see 850 temperature maps below). Shot after shot of cold air is forecast to pour into the eastern half of the United States from Canada. We should stay below normal for the next 10-16 days. There will be short warm spells, but overall we should expect cold temperatures. Along with the cold weather will come an unsettled pattern. Several storm systems will rotate through the base of the trough. This will help keep our region in clouds and on and off rain chances.
Some of the models hint at snowflakes on Saturday night into Sunday morning, across the KPAH forecast area. More snow is possible next week. A bit early in the period, though, to be actually forecasting snowflakes in our area. Interesting none-the-less.
Could this be the first indications of what our winter will bring? The rest of November does look cold and December could shape up to be cold as well. Will this translate into above normal snowfall? Time will tell!

850 Temperature Forecast Maps For The Days To Come.

CPC 8-14 Day Outlook
November 12, 2008
WET! Widespread rain has impacted the Paducah, Kentucky region during the morning hours. As of this writing (3 PM) rain continues to fall. Most areas have received between 0.25"-0.50". It appears that the rain will continue through the evening hours, before tapering off.
The next system will approach the area on Friday night and Saturday. A cold front will move across the northern U.S. and push through our region. This will usher in colder weather. A few rain showers can be expected with the front as well. I can't rule out a snowflake on Saturday.
Unsettled weather appears to continue through next week and the week after. A nice fall pattern has set-up across the region/eastern U.S.
November 15, 2008
A cold morning as rain slowly moves to our east and winds pick up from the north. A major trough of low pressure blankets the eastern half of the country, once again. After several shots of cold weather over the last few days/weeks we are once again facing an invasion of cold air from the northlands.
It appears that a few snowflakes will be possible across our region (western KY, southern IL, southern IN) this afternoon and tonight. Nothing significant, though.
During the past 24 hours the area has received between 0.25"-0.75" of rainfall. This is on top of rain that fell earlier this week. Not bad since we have been dry for the last several months.
Temperatures will continue to be below normal over the next few days. Small warm ups will be following by more shots of cold air. We seem to be on a roll.
November will certainly end up below normal in the temperature department.

The 500mb Wind map and 850 mb temps as of this afternoon
I am trying to gather everything together for my "farm" weather instruments. So, I ordered a thermograph for my instrument shelter. The instrument shelter will be about 150 feet behind the house - towards the fields on the south side of the property. My anemometer and wind vane will go there as well - on a 30′ tower.
So, I got everything put together. Now I will have to give it some time and see if it keeps track of the temperature. I know, very exciting. :) What I really want to use this for is those extremely hot days - 100+ and those extraordinary cold days - below zero. :) I can have a recorded log of the event. I should say that the thermograph goes outside in the instrument shelter. So, it will record outside temperatures.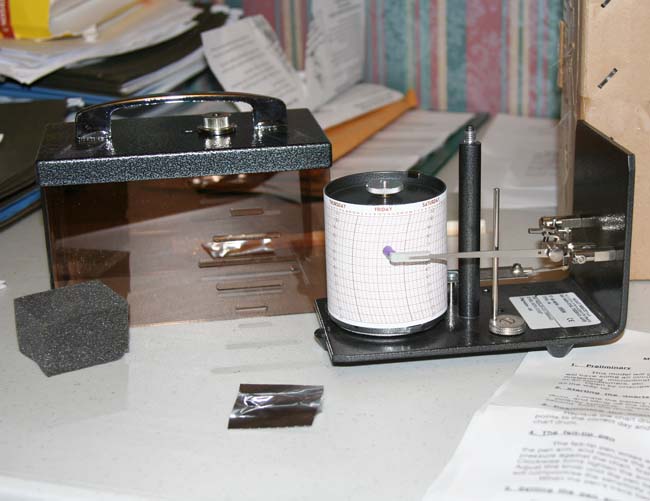 The new thermograph has arrived - this will be placed in the instrument shelter once we get the house built up on the farm.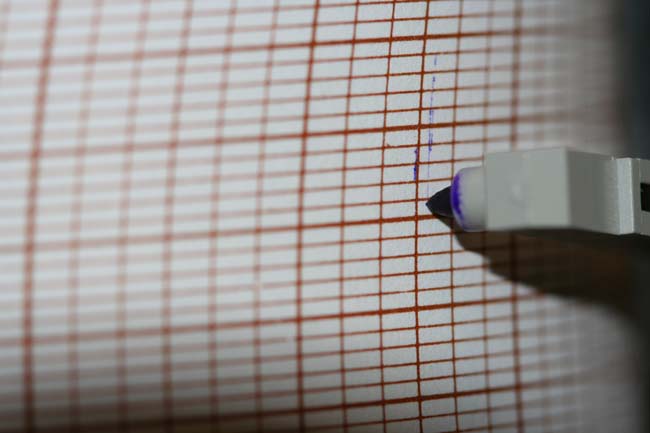 I guess now we will wait and see if it works.
November 16, 2008
We woke up to a chilly morning here in West Kentucky. Nothing special, though. Temperatures fell into the lower 30s overnight. I believe the forecast was for temperatures to reach the upper 20s.
It appears that we will have chilly weather through the next 3 days. The pattern continues to favor a northwestly flow across this region of the United States. Northwestly flow means cool/chilly weather.
Tuesday and Wednesday morning low temperatures should easily dip into the 20s. This will mean another hard freeze for the area.
An area of high pressure (forecast to be 1030+) will push down from the Northern Plains on Monday night and Tuesday. This will be followed by a wave of low pressure on Friday. Next chance of precipitation would likely occur on Friday night or Saturday. A bit early to determine that, though.
You can see the trough, that has persisted for several weeks now, on the 500mb wind map. This is helping to funnel cold air into our region from Canada.


500 mb winds - 500 mb ensembles
Looking ahead, the models continue to show the potential for a storm system around or after Thanksgiving Day. Some of the models push this storm to our south - putting us in the cold air sector. Other runs show it moving over Paducah or to our north. Something to keep an eye on in the coming days.

Ensemble forecast
On another note - I am still working on changing this blog over to WordPress. Several people have emailed me over the last few months and asked why I don't make the switch. I guess it makes it a lot easier for people to read updates through subscription notifications. Hopefully, the switch will be made soon.
November 17, 2008
A chilly night ahead of us here in West KY. We are expecting temperatures to fall into the 20s. Brrrr.
The northwest flow continues (see map below). Heavy lake effect snow tonight across portions of Indiana, Michigan, Ohio and New York.

500 mb map
November 18, 2008
Cold morning in Paducah, Kentucky. Upper 20s across most of our counties.
The models continue to indicate a very active pattern starting next Tuesday and Wednesday. The GFS shows a potential severe weather episode for our region. This would be in the Wednesday and Thursday time frame. After that we see two potential snowstorms on the map. Long way off and a lot can change. Something to keep an eye on, though.
November 19, 2008
The annual Winter Weather Workshop was held by the National Weather Service in Paducah, Kentucky today. The conference was held at Patti's Restaurant located on Kentucky Lake.
This years agenda included discussion on the 2008 ice storm and Hurricane Ike.
*8:30 AM - HazCollect and Other Developments *
Rick Shanklin, Warning Coordination Meteorologist, NWS Paducah, KY

*8:50 AM - Yikes it's Ike!* *Analysis and Forecasting of A Major Wind Event* Pat Spoden, Science & Operations Officer, NWS Paducah KY

*9:40 AM - Customer Service Workshop Action Items*
Christine Wielgos, CSWAT Leader/Forecaster, NWS Paducah KY

*10:30 AM - Review of the February 11, 2008 Crippling Ice Storm*
Mike York, Winter Weather Program Leader/Forecaster, NWS Paducah KY

*11:15 AM - Unbelievable Flooding Video; TADD, and Flood Reports*
Mary Lamm, Service Hydrologist, NWS Paducah, KY

*11:30 AM - Adjourn*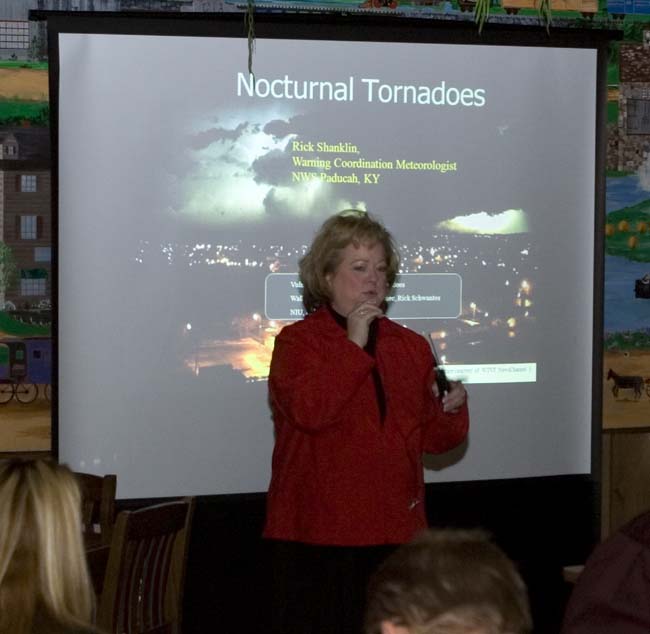 Beverly Pool introduces Rick Shanklin at the beginning of the conference.

Rick Shanklin discusses nocturnal tornadoes.

Christine Wielgos talks about the customer service workshop.

Rick Shanklin.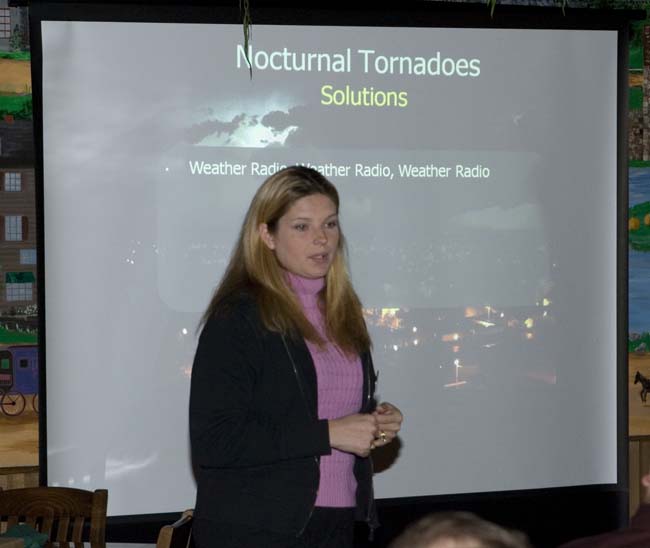 Kathryn Martin discusses C.J.'s Bus - a new program to help children impacted by
severe weather.


More than 80 people attended the event.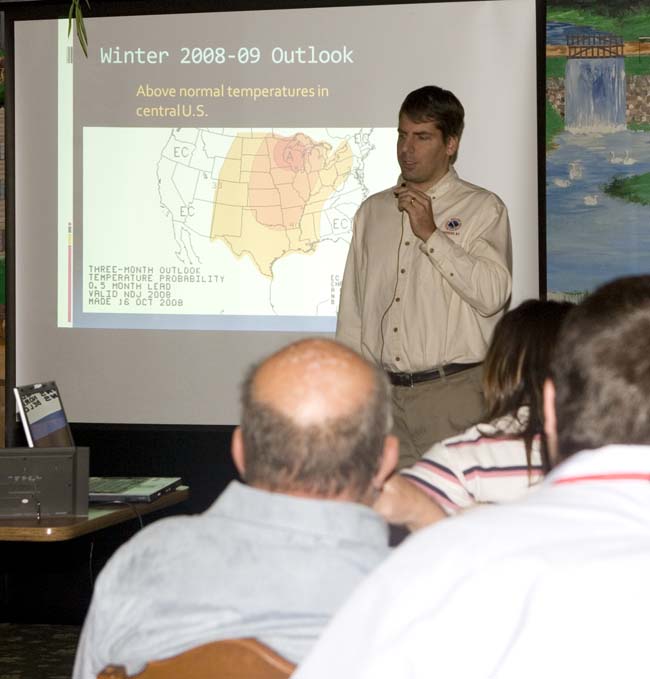 Mike York discusses the upcoming winter forecast and last winter's ice storm.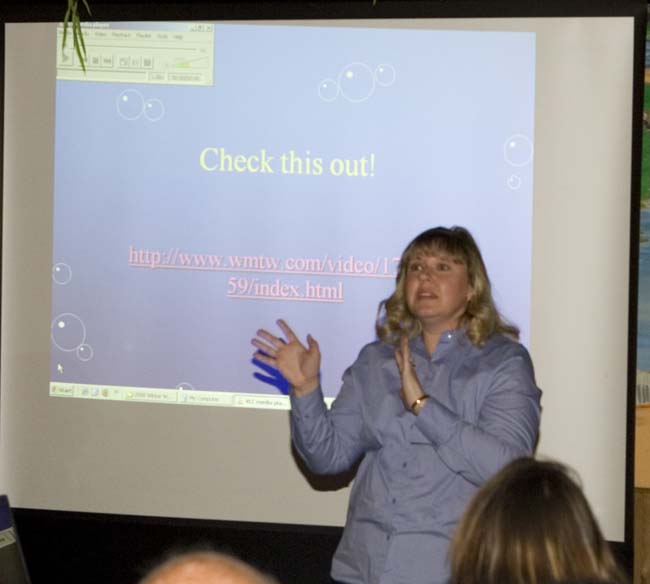 Mary Lamm discusses hydrology.

Mary Lamb discusses flash flooding and how communities can place signs along roads
that regularly flood.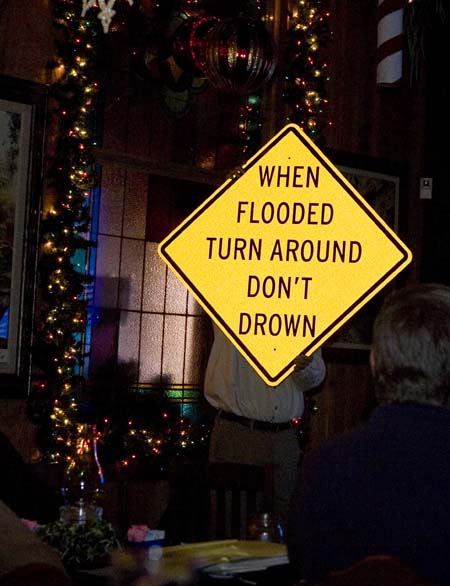 Patti's Restaurant was decorated for the holidays.

Let is snow - let it snow - let it snow!
November 21, 2008
THE NATION SHIVERS
November 22, 2008
The Paducah, Kentucky region had temperatures fall into the teens this morning. Well below normal. This has been an amazing pattern. Cold wave after cold wave has impacted the region over the last few weeks. It has been awhile since I have seen a pattern like this.
Hopefully it will bring us some snow - soon!


6-10 day outlook and current temps
NOAA's U.S. Winter Outlook Calls for Variability
In announcing the 2008-2009 U.S. Winter Outlook for meteorological winter from December through February, forecasters at the NOAA Climate Prediction Center are calling for warmer-than-normal temperatures for much of the central part of the nation, and a continuation of drier-than-normal conditions across the Southeast.
With the absence of La Niña and El Niño in the equatorial Pacific Ocean this season (climate patterns that give forecasters clues about potential weather events months in advance), predicting weather patterns on seasonal timescales becomes increasingly challenging. Instead, other climate patterns over the Arctic and North Atlantic regions may play a significant role in influencing U.S. winter weather.

"These patterns are only predictable a week or two in advance and could persist for weeks at a time," said Michael Halpert, deputy director, Climate Prediction Center. "Therefore, we expect variability, or substantial changes in temperature and precipitation across much of the country."
Regional Outlooks
Northeast and the Mid-Atlantic: Equal chances for above-, near-, or below-normal temperatures and precipitation.
Southeast: Increased chance of above normal temperatures in the central and western parts, along with below-normal precipitation.
Central Region: Increased chance of warmer-than-normal temperatures, with above-normal precipitation anticipated in parts of the central Plains.
Western Region: Equal chances for above-, near-, or below-normal temperatures, and an enhanced likelihood of below-normal precipitation across parts of the Southwest.
Alaska: Milder-than-normal temperatures except along the southern coast. Equal chances for above-, near-, or below-normal precipitation.
Hawaii: Above-normal temperatures for eastern Hawaii and below-normal temperatures for western Hawaii. There are equal chances for above-, near-, or below-normal precipitation throughout the state.
The U.S. Winter Outlook does not include a snowfall forecast. Snow forecasts are heavily dependent upon winter storms and are generally not predictable more than several days in advance.
Prepare for winter weather through NOAA Watch. The site gives you the latest weather patterns, forecasts and warnings issued by NOAA's National Weather Service. Also, tune in to NOAA Weather Radio All Hazards to get your up-to-the-minute local forecast and warnings.
NOAA understands and predicts changes in the Earth's environment, from the depths of the ocean to the surface of the sun, and conserves and manages our coastal and marine resources.

NOAA's Official Winter Forecast
November 23, 2008
A storm system pulling into the Ohio Valley will produce showers and a few thunderstorms over the next 24 hours. Right now it appears that rainfall amounts should remain below 1/2".
It will be warmer today across West Kentucky and South Illinois. Expect high temperatures to reach into the upper 40s and perhaps lower 50s. Not too bad after our recent cold spell.
An interesting article today out of Canada: This is from the AP -
SASKATOON, Saskatchewan (AP) - Scientists say they're searching for remnants of a meteor that brilliantly lit up the sky before seemingly falling to earth in western Canada.
University of Calgary planetary scientist Alan Hildebrand called it one of the largest meteors visible in the country in the last decade.
Widely broadcast video images showed what appeared to be a speeding fireball Thursday night over Saskatoon that became larger and brighter before disappearing as it neared the ground.
Hildebrand said Friday that he received about 300 email reports from witnesses.
"It would be something like a billion-watt light bulb,

" said Hildebrand, who also co-ordinates meteor sightings with the Canadian Space Agency.
Tammy Evans was wakened by her 10-year-old daughter who ran into the bedroom.
"She said there was a flash of light, the house shook twice and it sounded like dinosaurs were walking," Evans said.
Hildebrand suspects it broke up into pieces and he plans to investigate around Macklin, Saskatchewan near the Alberta border.
Rick Huziak, an amateur astronomer in Saskatoon, helped operate a camera on top of the University of Saskatchewan physics building that captured video of the meteor.
"It was quite spectacular. The ground lights up all over the place," he said.
Martin Beech, an associate professor of astronomy at the University of Regina, said meteorites are valuable to learning about the history of the solar system.
"Picking up a meteorite is almost equivalent to doing a space exploration mission between Mars and Jupiter," he said.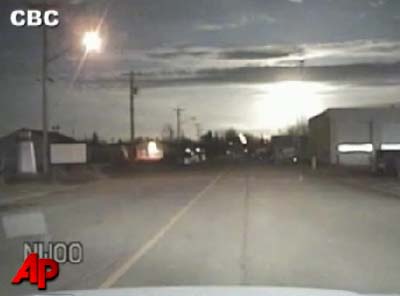 Bright meteor (lower right side of video grab)
Video:
http://www.breitbart.tv/?p=226813
November 24, 2008
Paducah, KY picked up .50" of rainfall overnight. A chilly rain - no snow, though. Looks like fair weather through Thursday. A chance of rain on Friday and Saturday as a storm system pushes to our south. It is possible that this misses our region altogether.
Hopefully we will see a chance for some light snow next week.

Rainfall totals
Do you think it has been cold lately? Check these maps out.
November 26, 2008
Well, the morning GFS and EC have brought a change to the forecast for Saturday night and Sunday. They are now showing a stronger trough with some phasing across the streams. So, should we trust these runs? That is the million dollar question.
If the runs are correct then portions of this region (West KY/South IL) into the Ohio Valley can expect some measurable snow on Sunday. Again, this is four days out and these are major shifts in the models. I never trust major shifts in the models. They normally don't work out.
With that said - I will be anxious to view the maps over the next day or two to see if there is some potential for rain or snow into our region on Saturday night and Sunday.
The GFS actually takes a closed 850 low across Kentucky and into Ohio. This would raise concerns for frozen precipitation.
Still, this storm is too far off to determine how it will play out. The NAM is much flatter and not nearly as impressive. Two different models - two different solutions. Chances of the GFS being correct at this range are low. It is the outlier model. This means that there are not many models that agree with it.

GFS Snowfall potential
November 28, 2008
Trends on the models have been for this next storm system to move further east and north of our region (West KY/South IL). This should keep us on the warm side of the system. Light snow may be possible on Sunday night and Monday morning. Nothing significant for Paducah.
November 29, 2008
Western Kentucky - Southern Illinois
Chilly day - clouds have been increasing since this morning. Looks like rain will move in later this evening and continue overnight. We should see some snow flurries and or light snow on Sunday night into Monday morning. No significant accumulation.
Areas to our north should see 1-4" of snow - possibly more across northern Illinois and southeast Wisconsin. Areas east and northeast of there should see moderate snow, as well.
Our next storm system should approach the region by Wednesday and Thursday. Too early to determine storm track.


11:50 PM Radar
November 31, 2008
We have had light rain most of today. Temperatures have fallen into the 30s. I am expecting some flurries later tonight and tomorrow across West KY and South IL. No accumulation.
Home | About | News | Upcoming Events| Photo Gallery | Video | Links | Contact
All Photos are copyrighted by Beau Dodson (unless otherwise clearly stated) and are used on this site with his permission. Any use other than authorized by them is against the law. If you wish to contact him regarding use of these photos, please e-mail me and I will forward it.