March 2008
March 1, 2008
Welcome to March everyone! WOW what a winter it has been. I missed a large tornado outbreak back home, a major wind event, and two ice storms! Go figure. I did get a lot of snow though in my travels. I ended up not going to Boston this year. It appears that was a good choice. Waterloo had a lot of snow on the ground and falling from the sky. The Winter Carnival was wonderful. So I have no complaints. It was a good winter.
Now I am back home and ready for spring! Ready for spring you might say? Yes, ready for SPRING. My favorite time of the year.
Mother Nature though, seems to have a few tricks up her sleeve. The computer models are showing an impressive snow event for Tuesday across our region. Still a bit early for specifics. The 12z NAM does show the 850 mb low passing to our east and southeast on Tuesday Morning and into the afternoon hours. This would bring the deformation zone right over the KPAH Region. Snowfall amounts of 6-12" would be possible across Southeast Missouri, Southern Illinois, and Western Kentucky.
Stay tuned!
March 6, 2008
Significant winter storm heading for our region. It appears that one of the heavier snows since the December 2004 event will be on tap across Western Kentucky. I am currently calling for a general 3-6 inches of snow. There could be some higher amounts but it is still a bit early to determine that.
Winter storm watches have been issued by the NWS in Paducah. The watches cover all of Western Kentucky. It appears that precipitation will start on Friday morning across much of the region. This should be an all snow event for Paducah. There is a chance of some sleet early on. Strong winds could cause low visibilities from time to time.
Finally some snow for Western Kentucky!!

11 pm radar and satellite images
March 7, 2008
Snowing here in Mayfield, Kentucky. We have picked up about 1 1/2" of snow. Not overly impressive - especially after this mornings bust. Portions of the area did receive snow overnight while other areas (Western Kentucky) received little or no snowfall. Needless to say there were more than a few upset snow lovers! I guess we are making up for it tonight. This has been one of the harder snowstorms to forecast - well I guess they are all hard to forecast! This one has been a pain. So all I can say now is - LET IT SNOW!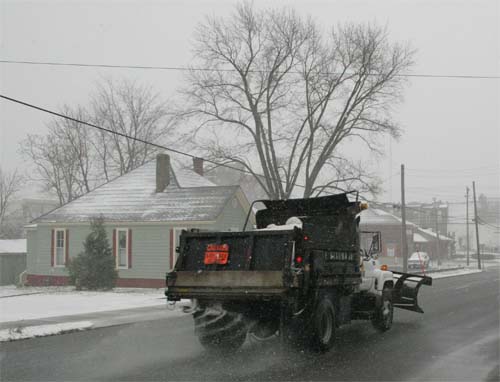 Mayfield, KY

Mayfield, KY

Mayfield, KY

Mayfield, KY

Mayfield, Kentucky - afternoon

Mayfield, KY - afternoon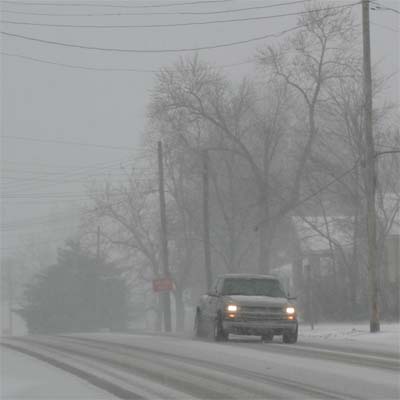 Mayfield, KY - afternoon

Mayfield, KY

Mayfield, KY

Mayfield, KY

Mayfield, KY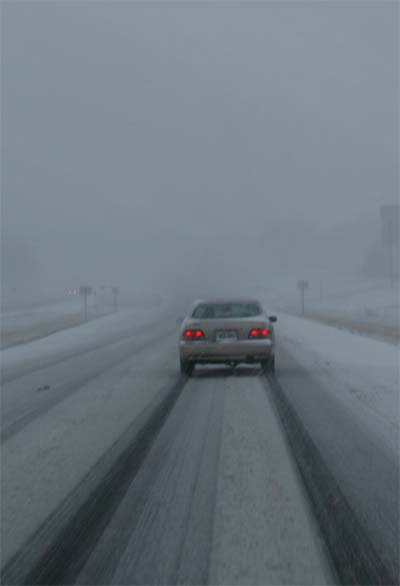 Mayfield, KY

Highway 45 North - Mayfield, KY

Paducah, Kentucky - 5 p.m.

Mayfield, KY - Evening


SPC - 9 pm - Low Pressure - Satellite Photo

9 pm National Winter Radar

Click for large image - Mayfield at 10 p.m. tonight

Click for large image - Mayfield at 10 p.m.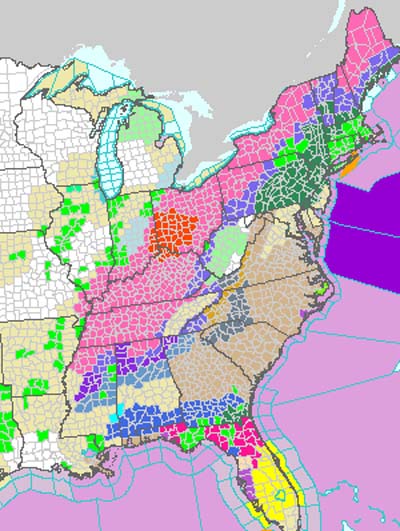 Look at all of the winter storm watches and warnings! Also blizzard
warnings in portions of the Ohio Valley.

Paducah at 11 a.m. this morning - March 8th. I don't know what
Paducah has to do in order to get a decent snow. :(
Turn the page for more weather
Home | About | News | Upcoming Events| Photo Gallery | Video | Links | Contact
All Photos are copyrighted by Beau Dodson (unless otherwise clearly stated) and are used on this site with his permission. Any use other than authorized by them is against the law. If you wish to contact him regarding use of these photos, please e-mail me and I will forward it.