October 15, 2007
Busy week ahead for the Paducah Forecast Area. We are looking at some showers and thunderstorms later this afternoon and overnight. A storm system will pull out of the Central Plains. This will push a cold front into our area during the overnight hours. Rain and thundershowers ahead of this front will spread across Western Kentucky by late afternoon and evening. Some locally heavy downpours are possible. No severe weather is expected.
A stronger storm system will sweep into the Tri-State area on Wednesday Night and Thursday. Details need to still be worked out concerning if and when the severe weather threat will increase. At this time it appears there will be two threats. One would be during the overnight hours on Wednesday and then again on Thursday Afternoon. The NAM is bullish for a severe weather event on Thursday Evening across Western Kentucky and Southern Illinois. The Storm Prediction Center has placed the area under a "risk" zone for the same time period as mentioned above. Stay tuned.

Impressive KPAH Sounding for Thursday Evening.
October 16, 2007
Major severe weather outbreak likely on Wednesday and Thursday.
An outbreak of tornadoes and severe thunderstorms will likely occur on Wednesday and Thursday from Oklahoma and Texas eastward into the Ohio and Mississippi Valleys. Widespread severe weather is forecast by the Storm Prediction Center. Areas to be hardest hit include much of our region. Still too early to know the details of the storms evolution but the SPC has already placed portions of our area in a Moderate Risk for Thursday. They discuss the potential of expanding that risk further south and east.

Oklahoma City, NWS Graphic
This is a dangerous weather system.

Storm Prediction Center Outlooks
October 17, 2007
MAJOR SEVERE WEATHER OUTBREAK EXPECTED TODAY...
A significant outbreak of severe thunderstorms is forecast today across portions of Oklahoma, Texas, Arkansas, Missouri, and Kansas. Tornadoes will be a distinct possibility. A deep low pressure center will move out of the Central Plains and move northeast into Iowa and Minnesota on Thursday. Severe thunderstorms will likely be on-going tomorrow morning across portions of the Missouri Valley and southward into Arkansas.
Another area to keep an eye on will be Northern Illinois on Thursday - closer to the warm front. The threat for the Tri-State area is conditional and the bust potential is high. As always the fine details of this forecast won't be known until Thursday Morning for this region.
The Storm Prediction Center believes there will be another outbreak on Thursday across the Ohio Valley.
NEW DAY ONE TORNADO OUTLOOK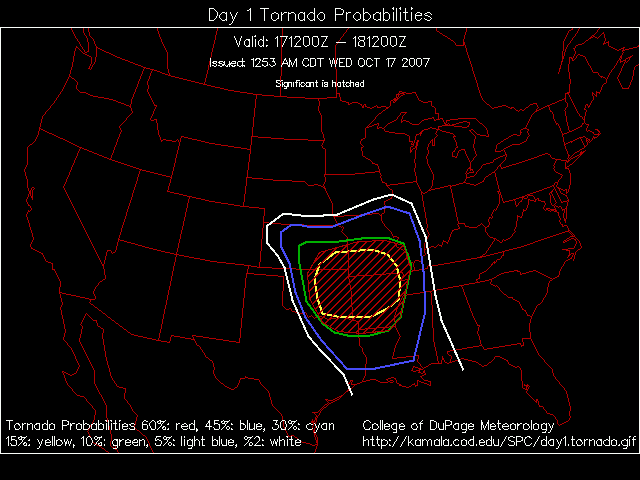 October 18, 2007
It has been a long night. Severe thunderstorms broke out early last night across portions of Arkansas and Missouri. These storms moved into our region during the late night hours. Lone Oak received over 1.70" of much needed rainfall.
Additional severe storms are likely early this morning and then later today across the region. The Storm Prediction Center is expecting a severe thunderstorm and tornado outbreak over a wide area from the Gulf Coast northward into the Ohio Valley.
Yesterday numerous severe thunderstorms were reported across Kansas, Oklahoma, Texas, Missouri, Arkansas, Louisiana, Mississippi, Tennessee, and Indiana. The map below shows the coverage of the severe weather. The dots represent wind damage, hail, and tornadoes.


Click to enlarge
The forecast for the Tri-State area is for showers and thunderstorms to move out of the region by later this morning. A frontal system will then approach the Mississippi River after 1 p.m. Thunderstorms should refire along this front. Some of these storms will likely be severe with the potential for high winds, large hail, and tornadoes. The greatest risk today will likely be across portions of Indiana and Illinois. Severe storms will be possible though across the entire region.
For the latest in watches and warnings you may visit the National Weather Service Office - Paducah, Kentucky Web-site. Click here.
ARTICLE TODAY IN THE PADUCAH SUN!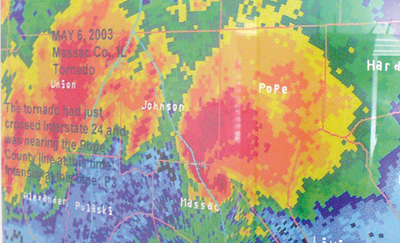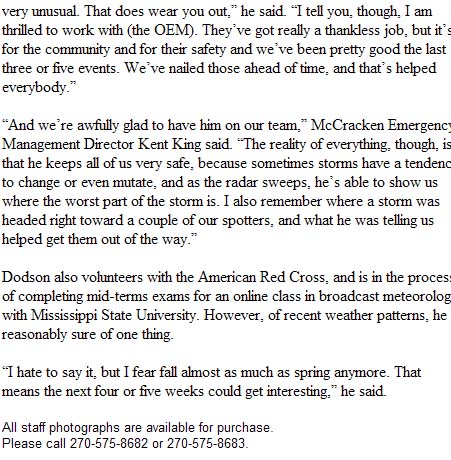 PENSACOLA HIT BY MORNING TORNADOES...
At least two tornadoes have struck Pensacola, Florida. One large one was captured by the ABC WEAR (see below) Television Station Tower Cam. Reports of widespread damage. Dozens of cars overturned. Roofs have also been reported off of buildings.
TORNADO OUTBREAK TODAY...
Worn out here in Western KY. A significant tornado outbreak has hit the Ohio Valley and Southeast United States. Many towns and cities hit - some more than once. Lot of damage being reported over a large area. Many injuries. At least six people were killed by the storms. Storm surveys are currently underway.
The photos below are from my area. They are NOT my photographs and were taken by local residents and posted on the WPSD TV SIX news-site.

Mayfield, Kentucky Photograph. Graves County. Photo by Patty White

Possum Trot, Kentucky. Photo by Sam Burgess.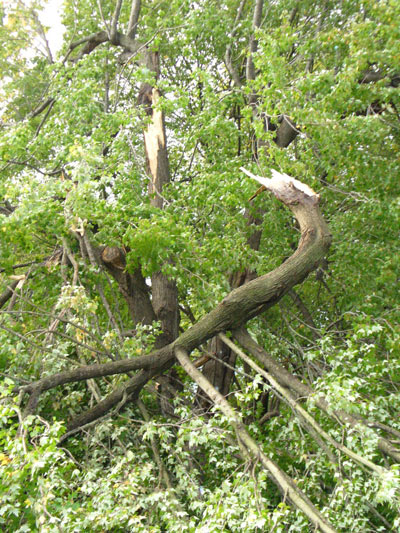 Paducah, Kentucky. Jason Whitley Photo.

Marion, Kentucky. Photo by Scott Sullens.
TWO DAY OUTBREAK

October 17th and 18th - 2007 Outbreak. Over six hundred reports
of severe weather across the Central United States.
THIS WALL CLOUD PASSED OVER MY HOUSE HERE IN LONE OAK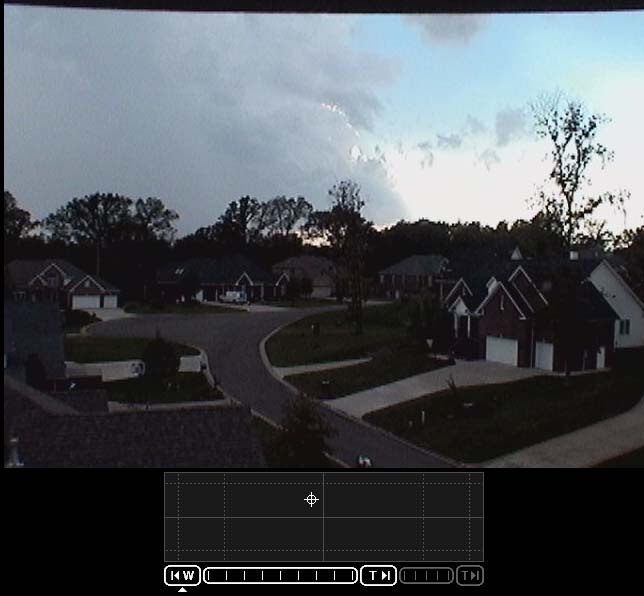 Rain free base here in Lone Oak during the first supercell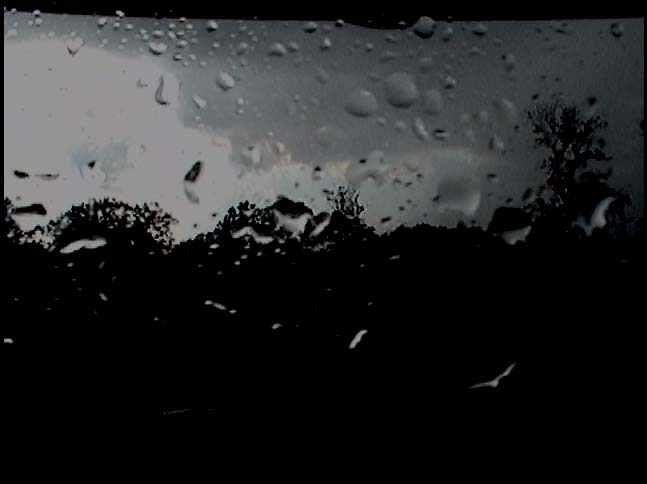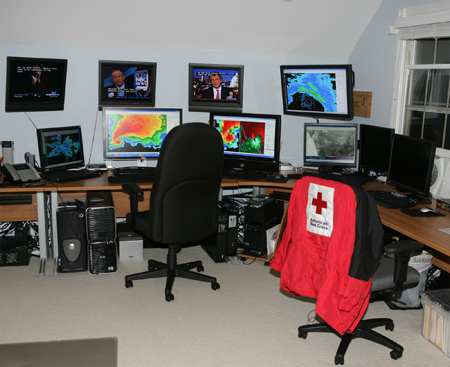 It was an extremely active day here at my house...one of the busier severe
weather events - for fall - that I have worked.
SIXTY+ tornadoes have now been reported on the Storm Prediction Center's Storm Report Page. Storm surveys continue. More may be added in the days to come.
October 21, 2007
Quieter weather has settled across most of the Central United States. Beautiful fall-like temperatures have been occurring in Paducah since the storm system roared through on Thursday Night. We had overnight lows into the 40s on Saturday Morning. Pleasant!
We should have an increase in clouds today as the next storm system pushes into the region from the Central Plains. Rain is expected early Monday Morning and into Tuesday across the entire region. Unfortunately, it now appears the heaviest rain will miss our region to the east. We are still in a serious drought situation. Red flag warnings will be posted for today.
Some isolated severe weather is possible across Oklahoma and Kansas tonight and across portions of the Southern United States late tonight and on Monday. A widespread outbreak of severe thunderstorms is not likely.

Storm thie evening in Oklahoma
Tremendous fires are expected over the next couple of days across portions of Southern California. An extremely dangerous situation is developing. Expect to see this on the news.
National radar tonight is showing widespread rain - heavy rain at that! Tornado watch has also been issued across portions of the southern United States.

Evening radar
Satellite Images of the Southern California Fire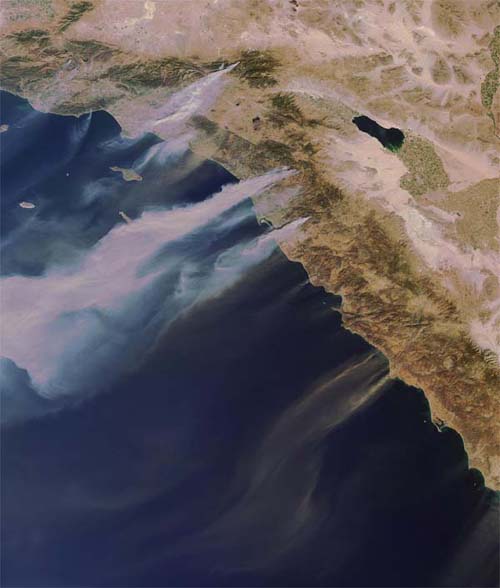 Tremendous fires are raging through Southern California. Hundreds of homes have
been lost.
October 23, 2007
Horrendous fires continue to burn across portions of Southern California. Over 1000 homes and businesses have been destroyed. I believe this now surpasses the number of homes destroyed in the fires during the early 1990s.
The National Weather Service Office in Paducah continues to complete storm surveys from the tornado outbreak. At last count more than 17 EF3 tornadoes have been surveyed from Michigan to Florida. Most of those in the State of Kentucky.
The following was written by the NWS Office in Paducah
Last week's tornado outbreak largest on record for October in our region
Damage surveys are still underway in the wake of the October 18th tornado outbreak. A final tornado count has not yet been tabulated.
The confirmed tornado count as of Tuesday afternoon was 11, which has already broken the record for most tornadoes in the month of October. The previous record tornado count for October for the 58 counties currently served by the Paducah office was 7. Those seven October tornadoes occurred just a few years ago in 2004.
The Daviess County tornado on October 18 was rated EF-3. This is the strongest rating given to an October tornado in the 58-county Paducah warning area since official records began in 1950. According to unofficial records going back to 1880, there was a tornado with an estimated intensity of F-3 in Posey County, Indiana on October 16, 1928. These unofficial records were obtained from the publication: Significant Tornadoes, 1880-1989 Volume II: A Chronology of Events by Thomas P. Grazulis).
The Daviess County tornado on October 18 was not only the strongest October tornado in official records, but it was the first October tornado in official records for Daviess County.
Prior to Oct. 18, only 19 tornadoes had been officially recorded in our forecast area during the month of October. The tornado count on Thursday increased the October tornado count by over 50 percent.
This record-setting October tornado outbreak follows the strongest documented September tornado outbreak last year. In 2006, a tornado rated F-4 tracked across Perry County, Missouri. This was the strongest September tornado, including unofficial records dating back to 1880.
The strongest November tornado on record occurred just a year before that. On November 15, 2005, a tornado rated F-4 struck near Madisonville, KY. The 2005 Madisonville tornado was the first tornado during the fall season (September through November) to be rated stronger than F-3 in official records going back to 1950. These records are for the existing Paducah NWS county warning area.
October 24, 2007
More rain across our region today. Everyone is so thankful to be seeing as much rain as we have. Lone Oak is approaching six inches over the past 8 days. Impressive to say the least. A slow steady rain at that. A little late for the farmers but it is still appreciated. Perhaps we won't enter spring in a drought. Just need to keep this rain coming through the next few months!
October 25, 2007
Moisture continues to swing around an upper level low pressure area over the Southern United States this morning. The Paducah region can expect an additional 0.50" or so of rainfall tonight and tomorrow. We have now picked up 6.12" of rain over the past eight days here in Lone Oak. Impressive to say the least.


12z Isentropic
October 29, 2007
Quiet weather has settled over Western Kentucky. Cool nights and mild days! We had our first frost of the season this morning. Temperatures fell to 34 degrees here at my house. Looks like we will have cool temperatures again tonight. No serious weather makers are on the horizon.
Tropical Storm Noel has formed in the Caribbean. The only threat to the United States could be across Southeast Florida. Noel will also impact the islands.

Tropical Storm Noel - Track Forecast
From the AP Wire: NOEL KILLS AT LEAST 20 PEOPLE IN THE CARIBBEAN
SANTO DOMINGO, Dominican Republic (AP) - Tropical Storm Noel brought heavy rain and flooding to the Dominican Republic on Monday and officials said at least 20 people had died.
At least 20 other people were reported missing from the storm, which lashed Hispaniola, the island the country shares with Haiti, said Ramon Franco of the Dominican emergency services agency.
Noel was expected to drop as much as 20 inches of rain on Hispaniola before heading northwest toward the Bahamas.
October 30, 2007
Tropical Storm Noel continues to move through the Caribbean this morning. The storm has killed more then 80 people in the Dominican Republic. Officials in Florida are concerned that the system could brush the southeast portion of the state. At this time it appears that Noel could strengthen a bit over the next day or two.
Nice weather continues across our region.
October 31, 2007
Tropical Storm Noel is emerging off the Coast of Cuba this morning. Noel will likely intensify today and could approach hurricane strength over the next day or two. Noel will likely clip southeast Florida. A direct hit is not anticipated at this time.

Noel at 9 a.m.
Otherwise, quiet weather continues across the Ohio Valley. A nice Halloween night ahead.
Turn the page for more weather
Home | About | News | Upcoming Events| Photo Gallery | Video | Links | Contact
All Photos are copyrighted by Beau Dodson (unless otherwise clearly stated) and are used on this site with his permission. Any use other than authorized by them is against the law. If you wish to contact him regarding use of these photos, please e-mail me and I will forward it.